I have many bad habits:  I like to eat at the same restaurants, I only trust about three people and, perhaps worst of all, I take most of the credit for all the hard work of my entire dedicated team at Little Airplane.  I've spent the past decade or so trying to improve myself in these (and other) areas so, towards that end, I recently did something that, a few years back, I would certainly have resisted like a root canal:  I shared a co-creator credit on a major preschool show.  I assure you this was not easy for someone like me whose narcissism and need for attention is matched only by his love of seeing his own name scroll down a TV screen.
However, in this case, my co-creator truly deserved this credit.  In fact, he probably deserved to get sole credit for creating the show but, sadly, I'm not yet a karmically big enough person to give it to him.  The show I'm referring to is called The Adventures of Napkin Man! and my co-creator is an amazing guy named Tone Thyne whom many of you already know and love.  The origins of our new show date back to a hand drawn card that Tone gave me as a thank you for buying him a tux for his birthday so he'd have something nice to wear for his first Emmy nomination.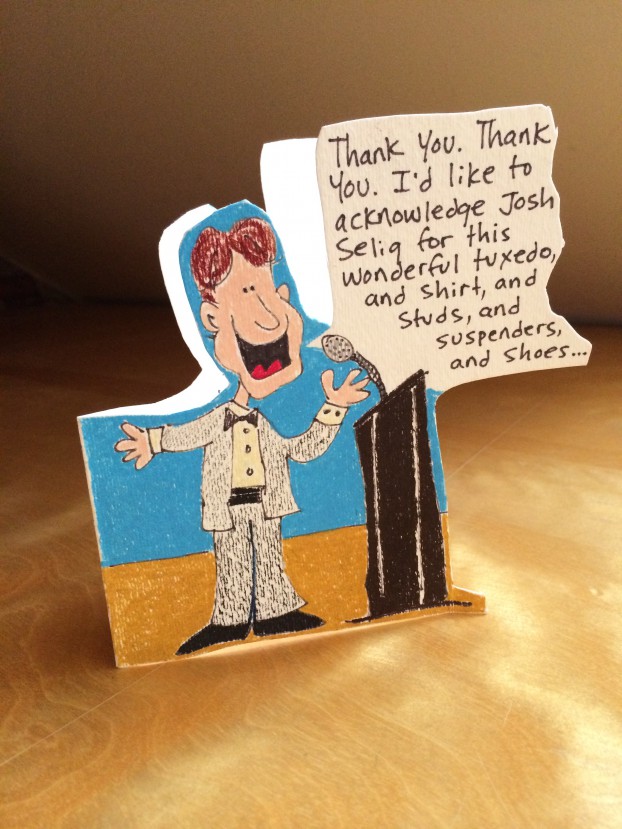 Tone's unique drawing style was very familiar to me as I had seen it before in the animated films he made for Sesame Street in the 90′s and in his incessant doodling during meetings which–as charming as this was to everyone else–mostly just annoyed me.  But, for some reason, this one particular drawing of Tone's spoke to me.  In fact, it did more than just speak, it sat on my desk for months begging me to do something with it.  So, I finally gave in to Tone's drawing.  I went to Tone and said, "Your card won't leave me alone so I think we should make a show out of it."
Tone agreed and this led to a series of weekly breakfasts at the Gee Whiz Diner where we discussed what kind of show his card wanted to become.  Eventually, it revealed it's true intention:  It wanted to be the lead character in a very honest show about children's emotions called, The Drippy Adventures of Napkin Man which was ultimately (and wisely) shortened to, The Adventures of Napkin Man!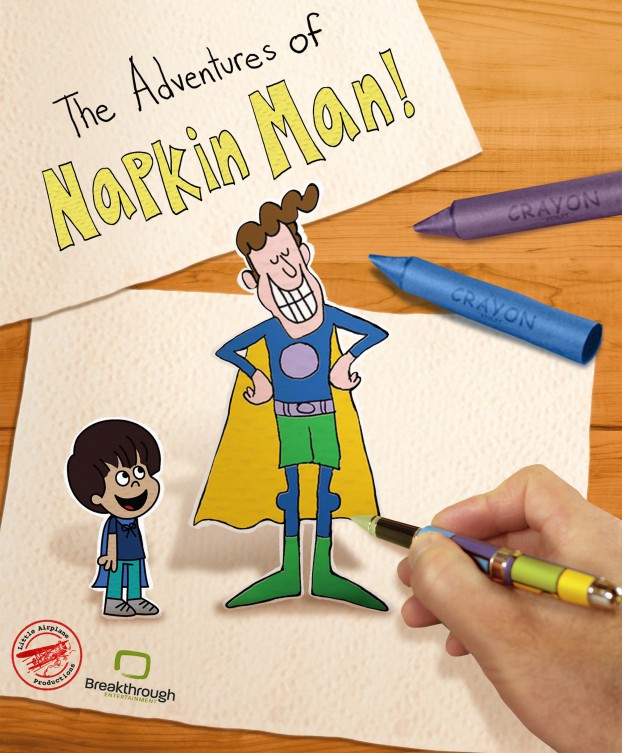 The show, now complete, is about a preschool teacher named Mister Anthony who can best be described as a cross between Tone and Mister Rogers.  When confronted with a student who's having a problem, Mister Anthony draws a super hero named Napkin Man who pops to life and helps an animated child navigate the same emotional waters as the real child.  Napkin Man has no actual super powers.  His only real power–other than being funny–is his ability to talk to children and help them to better understand their feelings.  (A gift that, not surprisingly, Tone also shares.)
Though I certainly gave my two-cents during the show's development, it was always clear to both Tone and I that Napkin Man was more his baby than my own.  The show not only reflected Tone's visual style but also his deeply compassionate view of the world.  The series found a very happy home on the CBC in Canada and premiered in December.  The show stars Yannick Bisson, best known for his role in The Murdoch Mysteries, who plays both Mister Anthony and Napkin Man.  Tone and I are both big Mister Rogers fans so the first review that came out touched Tone's heart as much as mine.  Mark Eastman wrote, "Not since Mister Rogers' Neighborhood has there been a show that made this kind of effort at open and honest conversation with children."
This week, I'd like to give you all an opportunity to get to know Tone Thyne a little better.  He's a very interesting and likable person and, along with my other loyal Senior Staff members, Tom Brown and Sharon Gomes Thomas, he has been with me for many years helping me fly Little Airplane Productions.  Tone and I sat down for a conversation about The Adventures of Napkin Man! the other day and here's what Tone had to say.
JOSH:  Putting all business aside, why was it important to you, personally, to create "The Adventures of Napkin Man?"
TONE:  Did you ever notice the way Mister Rogers used to literally get down on the level of children when he spoke with them?  He did the same thing when he talked to me from the TV set.  Mister Rogers told me it was OK to be sad or scared or angry because even he got sad or scared or angry sometimes.  I wanted to make a show with the same power to look into a child's eyes and connect with them emotionally.  Making Napkin Man is my way of giving something back to the world that was given to me when I was a kid.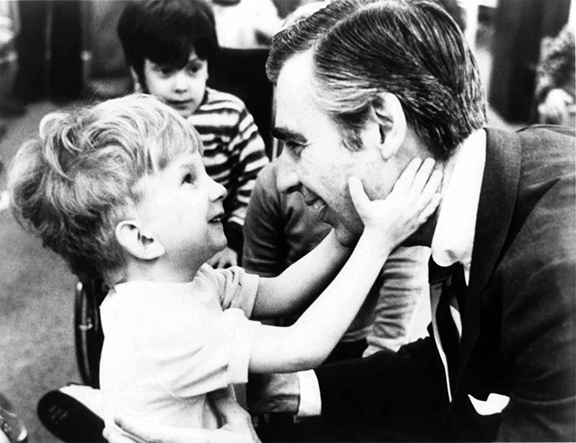 JOSH:  Was it a hard thing to bring such an honest emotional connection to a children's TV show?  What were some of the biggest challenges you faced along the way in the creative process?
TONE:  Making a fun and engaging show about feelings without being too didactic is probably about as difficult as dancing about Algebra.  For me, the best way to create an honest and emotional connection with a child was to draw from my personal experience.  Adults are just children living inside grown-up bodies and, no matter how old we get, we will always share the same feelings.  The character of Napkin Man is based on my own personal interactions with children.  He does the kinds of things that I do and he says the kinds of things that I say.  But he looks much better in Spandex.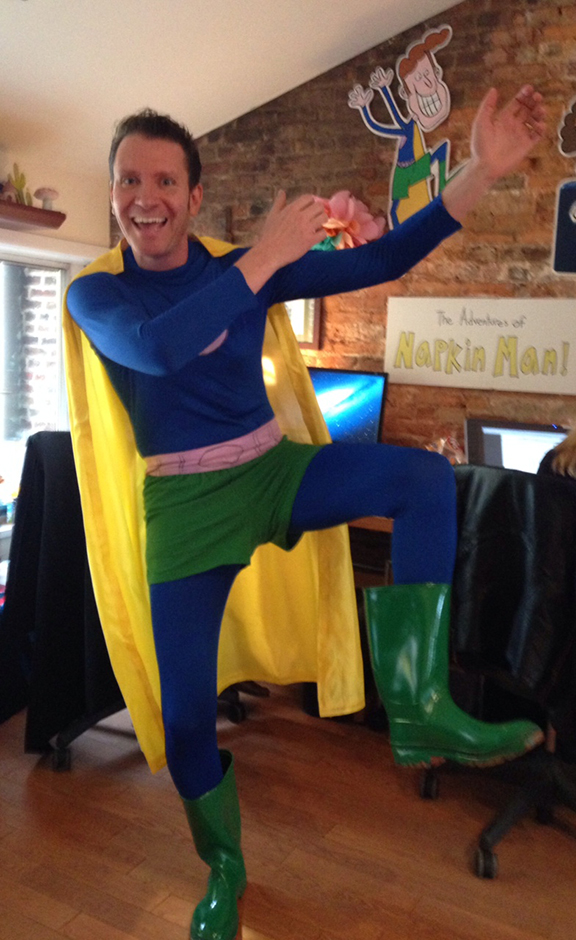 JOSH:  No argument there.  Let's talk a bit more about you.  Most people in the industry know you as the Producer at Little Airplane of shows like "Wonder Pets!"  I know that's only a part of your story.  You're also an accomplished Artist, Animator and Director.  Would you talk a bit about that side of Tone Thyne?
TONE:  I'll never forget in second grade when our teacher asked us to draw a picture of what we wanted to be when we grew up.  I drew a picture of myself climbing a mountain and wrote "Mountain Climber" beneath it.  Utterly impressed by my own drawing, I immediately scratched out "Mountain Climber" and wrote "Artist" beneath my picture.  That about sums up how I feel about my career:  An artist with an eye for climbing.  I was hired as a P.A. at Disney Feature Animation right out of school with every intention of one-day crossing over to the artistic side.  Instead, I became seduced by Production where I learned all about making amazing high quality content from start to finish.  A couple decades later, I've figured out a way to navigate my way up the steep incline of Production Mountain, across a wobbly extension bridge, and ski down Mount Creative.  Deep down, I fancy myself an artist above anything else and I feel much more at ease in front of a Photoshop file than I do in front of an Excel document.  I feel most comfortable in front of a Sharpie and a box of crayons.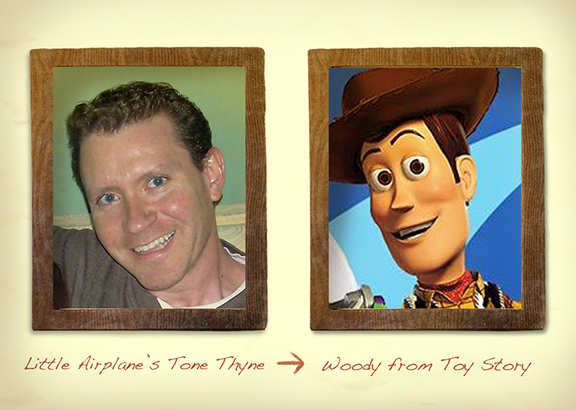 JOSH:  You also seem very comfortable with people and with managing artists.  I have always been impressed by your skill and your sensitivity in this delicate area.  Can you talk a bit about your philosophy as a manager of a creative team? 
TONE:  As a kid, seeing my drawing taped to the refrigerator door would always make me want to immediately run off and do more and even better drawings.  Reflecting on this today, as both an artist and as someone who manages artists, I've come to realize that artists are generally quite insecure and we live almost entirely on encouragement alone (and free food whenever we can get it!) When I convey to an artist my honest admiration for the time, energy, and talent they have put into their work, I find they want to do more and even better work for me.  Kind words are absolutely free and I love sneaking them into a conversation whenever I get the chance.  By the way, great question!  (See how I did that?)
JOSH:  Sadly, I am so insecure that even your kind words cannot get through.  But thanks for trying.  Back to Napkin Man.  It's a complex show.  Created in New York but ultimately produced entirely in Canada.  Who did what?  And do you feel the teams were able to understand and embrace your core vision of the show? 
TONE:  Imagine putting an egg in an envelope and mailing it to your friend in another country.  You need to have a lot of faith in the postal service that your egg will be in tact by the time it gets there.  Preserving the core vision of a show without actually touching it is a bit like that.  Thankfully, Napkin Man had Canada's absolute finest ensuring our egg didn't get cracked. Breakthrough Entertainment, our wonderful producing partner, handled everything from scripts all the way through post.  They worked closely with Little Tugboat who was responsible for the show's beautiful animation.  Our friends at the CBC offered a constant stream of support and encouragement, as well as insight on the scripts, the curriculum and the overall shape of the show.  That old myth about all Canadians being nice is absolutely true and the love that our Canadian teams have for this show is right up there on the screen in every episode.  I couldn't be happier with the end result.  I'll now refrain from adding some terrible pun about it being eggsactly as we had hoped it would be.
JOSH:  You and I usually agree on most things but, I have to say, I dislike puns today even more than I did the day you walked into my live-action studio in 2001 and told me I should get into the animation business.  Last question:  If you were to have had the chance to meet Mister Rogers while working on "Napkin Man," what would you have said to him?  And, perhaps more importantly, what would you have liked for Mister Rogers to have said to you?
TONE:  I'd say, "Mister Rogers, when I was young, I liked you. Now that I am old, I want to be like you.  The children you connected with through the television set 45 years ago have all grown up and become today's parents, teachers, caregivers and, yes, show makers.  We all want to be able to offer to the children in our lives the same gentle guidance and love that you gave to us when we were young.  My sincere hope is that The Adventures of Napkin Man will demonstrate the kind of nurturing you modeled so artfully and that the show will effortlessly pass along your brilliant light to a new generation of tomorrow's grown-ups."
As for what Mister Rogers would say to me?  That's the easiest question of this whole interview.  "I'm very proud of you, Tone."