Day Out With Thomas program refreshed for 2013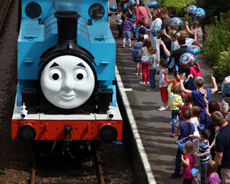 HIT Entertainment's Day Out With Thomas program, which offers special Thomas & Friends events for parents and kids at heritage railway stations in the UK, is getting a new look for 2013.
The rebrand, aimed to reflect the new CGI-animated Thomas & Friends series, includes new merchandise, new railway event activities, a new ticketing website and a national TV ad campaign set to launch in spring next year.
For the railway stations, every engine face will be newly painted in line with the look of the TV series, staff will have new uniforms and new merchandise offerings include t-shirts, baseball caps, whistles, badges, flags and postcards.
The newly launched website, www.dayoutwiththomas.co.uk, provides a centralized ticketing system produced and managed by Wilson Digital Media.
In addition, brand new activities for kids include real steam engine rides, dress-up photo areas, story, coloring and drawing games, interactive storytelling sessions, sing-a-longs, and chances to meet the Fat Controller.
The first Day Out With Thomas of 2013 will take place at Llangollen Railway, February 9 and 10.
Magazine
Our fall edition of iKids Digital is now available! We're taking a look at the migration of virtual worlds to mobile, how to find success in the mobile education space, wearable tech for kids and much more.
Kidscreen on Instagram