Nickelodeon releases first original IP for mobile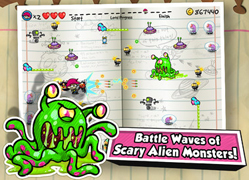 Nickelodeon has launched Scribble Hero, a new arcade-style action game for kids ages nine and up that is the kidsnet's first original IP for mobile.
The 99-cent, COPPA-compliant app is available for iOS devices and lets players hand-draw themselves into the action, partnering with a heroic doodle character named Sketch on a quest to save his friend, Dot from an army of evil doodles and sketches.
Features include 50 levels, retina graphics, weapon upgrades, achievements and coin collection/in-app purchases to unlock game boosts, tombstones, weapon upgrades and extra lives.
Magazine
Check out our latest issue of iKids Digital! We've got the scoop on the latest social media marketing tactics, the tablets that kids and parents can't put down, and new insights on how youth are using social networking sites.
Kidscreen on Instagram