Silver Dolphin gets into digital apps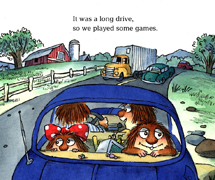 Baker & Taylor Publishing imprint Silver Dolphin Books has expanded into digital publishing by acquiring the app publishing rights to popular children's brands Little Critter and Richard Scarry.
Plans are in the works to release six new apps for the two brands and launch a brand new IP, Astro B-1. Developer/producer John Sansevere (Little Critter: Where's My Frog) will develop the apps for an expected 2013 release on both iOS and Android platforms.
Aimed at the four to seven-year-old demo, Little Critter books from author/illustrator Mercer Mayer were first published in 1975, and more than 150 million copies have been sold to date. The first planned app, Little Critter: The Trip, is set to launch in January 2013 and helps preschoolers identify numbers, shapes, colors, patterns, letters and simple words.
Richard Scarry's Busytown's Busy Kids app is slated for spring 2013 and focuses on helping kids solve problems. To date, Richard Scarry's Busytown books have sold over 100 million copies worldwide.
The first app based on original IP Astro B-1 is set for a summer 2013 release. Also aimed at preschoolers, it promotes respect and understanding among all children no matter their differences. The app's storyline follows the inhabitants of a tiny star called Asteroid B-1.
Silver Dolphin Books publishes educational, novelty and activity books for preschoolers to 12-year-olds.
Magazine
Check out our latest issue of iKids Digital! We've got the scoop on the latest social media marketing tactics, the tablets that kids and parents can't put down, and new insights on how youth are using social networking sites.
Kidscreen on Instagram