In New York City, the flood waters have finally receded but the weather conditions in my beloved city this month have been nothing short of biblical.  Floods.  Hurricane force winds.  And, tonight, on our first day back in the office with power, we had to let the staff go home early because of a snowstorm.  Tone Thyne, whom many of you know and love, rode his bicycle from Maplewood, New Jersey to South Orange, New Jersey in order to catch a slow bus to work.  Tone's total travel time: 3 hours.  And he arrived smiling.
I have never been as deeply grateful for my team as I am this week.  They have hooked up generators, they have held conference calls around cold cell phones and they have designed, animated, and produced our preschool projects wearing winter clothing befitting an arctic expedition.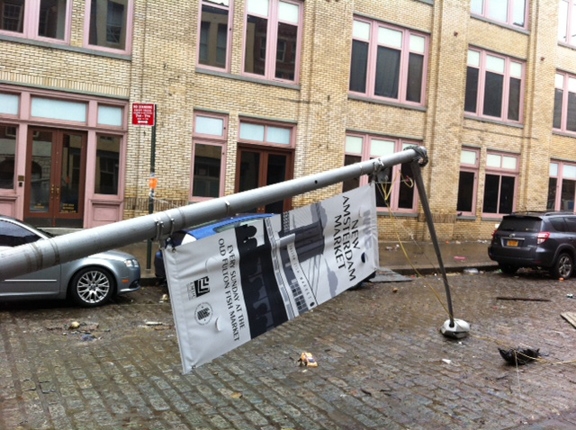 The news on television does not do justice to what happened in New York two weeks ago.  In some neighborhoods, power was never lost and you
could still check your e-mail and your only inconvenience was that it took 10 minutes longer to get your Indian food delivered.  In other neighborhoods, particularly in Lower Manhattan, whole blocks were plunged into darkness and many areas, including much of the Seaport, are still without heat, power and phone lines.  If any of you have ever shopped at the popular Abercrombie & Fitch in the Seaport, here is what it looks like now.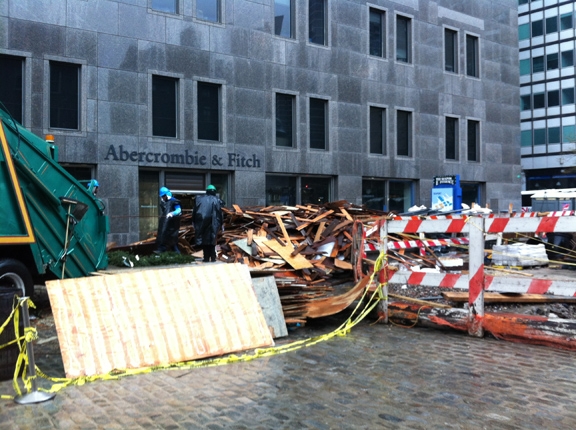 But if you think that's scary, the image below shows what our neighborhood looked like on the night that Sandy rolled in.  This picture was sent to the staff by our Animation Director, Julian Kauffmann and, as you can imagine, we all feared the worst for our studio and its equipment.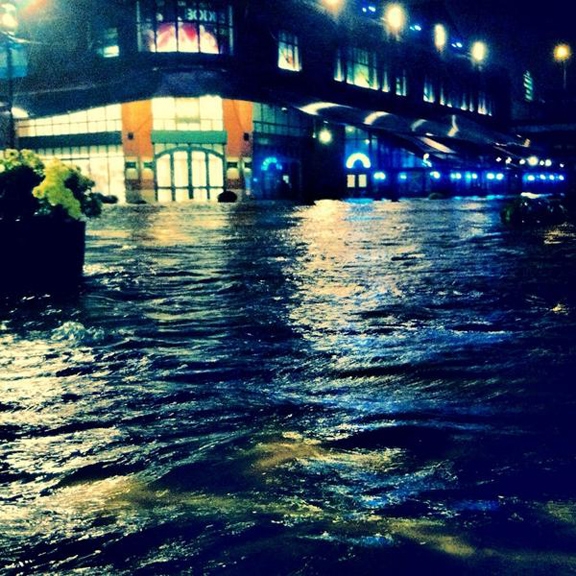 What most people don't realize is that the flooding wasn't caused by rain.  It actually didn't rain all that much in New York during Hurricane Sandy.  The floods were caused by a storm surge that has been attributed to a combination of Sandy's fury, the high tide and, according to Mayor Mike Bloomberg, the effects of global warming.  If you ever had cause to doubt Al Gore's theories on climate change, being in New York last week would very likely change your mind.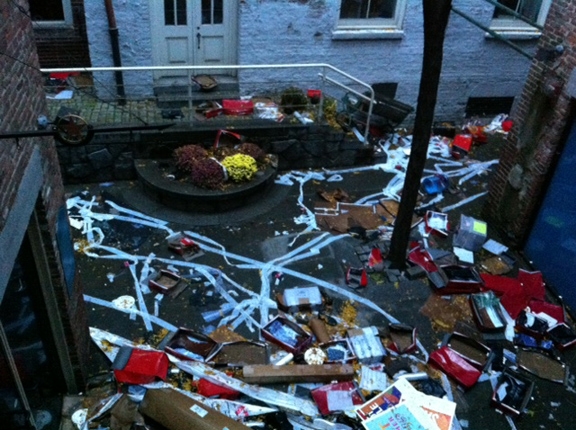 But the fact is our studio was spared any real damage.  As most of you know, Little Airplane is on the second floor of an old red brick building and, thankfully, the ground floor is not occupied by tenants at the moment.  The only damage we suffered was in the first floor entrance vestibule.  Here the water rose up higher than our intercom and ruined the floor and some signage.  This framed storyboard panel from the Wonder Pets hangs in the stairwell about half-way up the stairs to our studio and you can see how Ming-Ming was submerged up to her neck in the storm.  But not one piece of our equipment was touched.  Which is a miracle.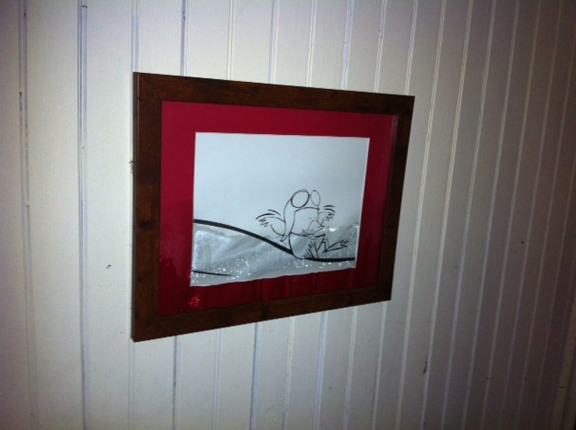 I tend to have something of a "me against the world" outlook on life.  (On my better days, it gets downgraded to an "us against the world.")  But Hurricane Sandy has pretty much changed all that.  There were, simply, too many kind gestures, both big and small, from friends, colleagues and broadcasters during and after the storm.  Within days of Sandy hitting our studio, we received offers of temporary free space from local toy companies, audio facilities, app companies, restaurants and friends.  E-mails of concern and support poured in from the United Kingdom, Korea, Brazil, Germany, Denmark, Canada and half-a-dozen other countries.  I was touched, I was moved, and I was reminded once again of just how lucky I am to work in an industry that is so kind, so compassionate, and cares so much.  Thank you.