Star Wars Angry Birds line hits Toys 'R' Us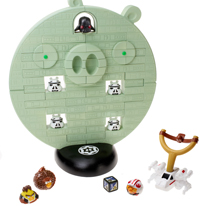 In advance of the November 8 global release of Rovio Entertainment's new Angry Birds Star wars app, Toys 'R' Us and Toysrus.com have launched new Star Wars Angry Birds products from Hasbro and Commonwealth.
Products currently available from Hasbro include The Early Angry Birds Package as well as the Jenga Death Star Game and the AT-AT Attack Battle Game which both include special codes that unlock in-app content. The Koosh Angry Birds Star Wars Jedi Slingshot will be available from October 28.
In addition, plush products from Commonwealth including Luke Skywalker Bird, Princess Leia Bird, Darth Vader Bird, Han Solo Bird and Storm Trooper Bird will also hit Toys 'R' Us and Toysrus.com on October 28.
Board games, launchers and Halloween costumes will also roll out.
Magazine
Check out our latest issue of iKids Digital! We've got the scoop on the latest social media marketing tactics, the tablets that kids and parents can't put down, and new insights on how youth are using social networking sites.
Kidscreen on Instagram