MyWeb releases new Facebook animated chat app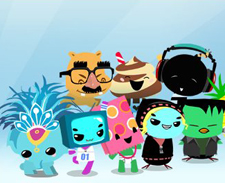 Adding a new dimension to social network conversations, Syracuse, New York-based software development company MyWeb has launched its new animated chat app on Facebook.
MyWeb chat features a series of animated character avatars that portray a number of emotions, actions and moods when used for instant messaging, and users can have their verbal messages appear in word bubbles.
Users can also easily connect to additional chat systems outside Facebook including MSN and Yahoo, which is a unique feature not found within Facebook's own chat system.
The new app is free, but micro-transactions for sale of virtual goods can be purchased.
Magazine
Check out our latest issue of iKids Digital! We've got the scoop on the latest social media marketing tactics, the tablets that kids and parents can't put down, and new insights on how youth are using social networking sites.
Kidscreen on Instagram