The Hotel Grey d'Albion
smells like roses and there is a shag carpet
outside the hotel where you get into taxis
and the automated voice in the elevator
sounds like Helen Mirren, drunk,
unamused, saying, "Going down.  Going down."
Welcome to Cannes, where the currency
is episodes and the meetings melt together
like beads on a candy necklace.
"When did you arrive?"
"How long are you staying?"
"Are you having a good market?"
Here by a slow sea
we must all say something
even when what we say
means nothing at all.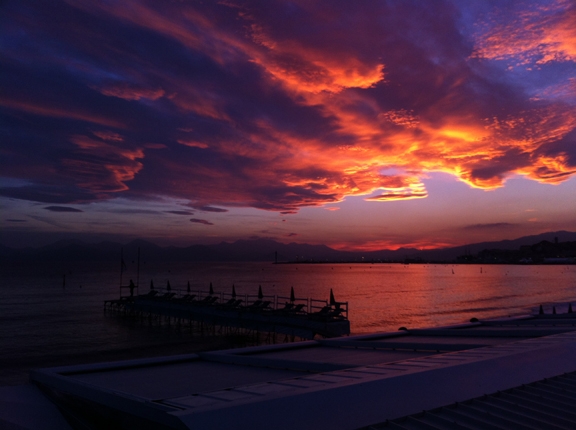 The silly posturing of boats and signage,
the Palais in love with the Dewey Decimal System,
the fumbling through schedules and wine lists,
the two kisses that equal less than one,
the lanyards that allow us in with a beep
that says, "Television, oddly, is my vocation."
So many waiters, talkers, friends and fanatics,
a lady strolling along the Croisette
inside a giant plastic ball like a gerbil.
Awkward conversations with ex-execs who thought
they were gods until they realized it was their title
we were worshipping and not really them at all.
And beside a big "Mademoiselle Zazie" poster
a Korean friend tells me, shyly, that in Korean
"Mademoiselle Zazie" means "Mademoiselle Penis."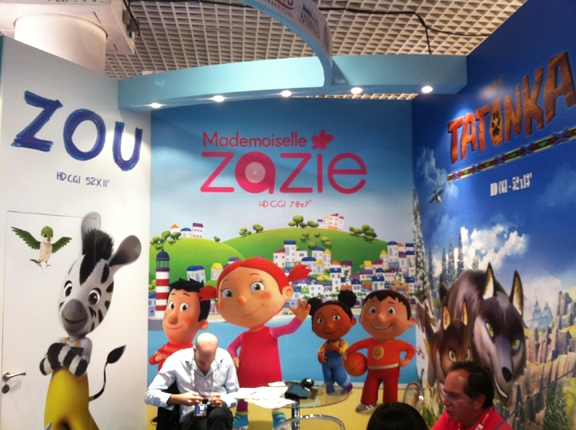 Oh, my ducky MIPCOM!  You are my television everything!
Scan my badge for eternity!  Take my pitch for happiness!
I have come to you with questions and somewhere
inside your big architectural blow-out of a building,
there must be a booth with some answers!
Help me understand the rules of eye contact at the Grand!
Will the Ninja Turtles cross the Maginot Line?
Who really cares about dubbing?
And if linear television
falls in the forest
when nobody is watching it
does it make a sound?
I am flying home now from Nice, tired,
loaded up with a lovely fruit salad
of business cards.  I have new prospects
from Slovenia to Guangzhou, most of which
will dissolve into a soft mist
rising slowly off the Mediterranean
before I even hit the jet stream.
But some will sprout.  A new seed, a friend,
a sale, an unexpected gust of something
that will carry me and my little airplane
filled with creative refugees
through another year of approvals, budgets,
blogs, battles, and unbridled preschool cuteness.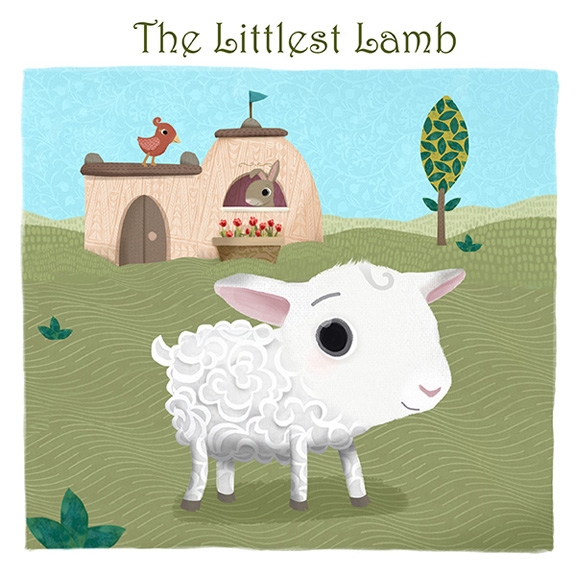 Whatever your drinking habits, your hotel,
whoever you danced with or discovered,
whoever you pitched to or got sick upon,
whatever meeting you canceled or cajoled,
whichever restaurant found your reservation
and fed you Foie Gras and Pouilly-Fuissé,
something got done here in Cannes this week,
something productive did actually happen:
We connected.  We bought and we sold.
We did the business that is television.
And whatever you may say about us, we
the towering, the teetering, the standing, we
the keepers of the box that must be watched,
we do work hard, we do love what we do,
and we do like being around each other.
The Hotel Grey d'Albion smells like roses.