It's Wednesday night at 12:04 am and, as much as I would like be to curled up on the couch with Mary and Buffy  watching reruns of The Real Housewives of New Jersey, I am not.  I am at John F. Kennedy Airport getting ready to board a Korean Airlines flight to Seoul.  I was hoping that the tornado warnings on the news would yield some actual tornadoes so I could just stay home but not one tornado appeared.  My plane departs on time and, sadly, so do I.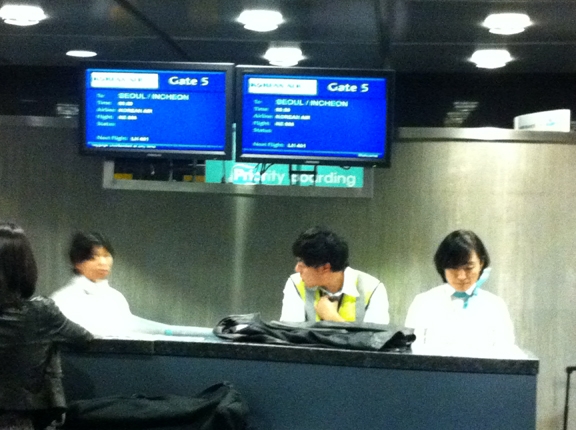 If there is such a thing as a preschool TV travel martyr, I am that thing.  This year I actually ran out of pages in my passport so I was sent to a Kafkaesque office building where they sewed in some extra pages.  Now my passport looks like an Oreo double-stuff cookie.  Why do I travel so much?  Because the kids' business is entirely international and because you can't look somebody in the eye over Skype.
I have 14 hours in the air to fill so if this blog runs long you'll have to forgive me.  Or you could simply stop reading.  I readily admit that for the first year or so this blog had something of a point to it but, as the years have ground by, I've dispensed with the points and the blog has become just an endless chronicle of my life as an indie preschool TV producer.  If you find it a tedious read, (as I suspect many of you do), imagine having to write it?  Or, worse yet, imagine having to live it?
In honor of my trip to Korea, Alex Mager, our Little Airplane "Air Traffic Controller," played the ubiquitous Gangnam Style music video at our morning staff meeting today.  Since Alex also oversees our Small Potatoes Facebook page, it was not a total surprise when he sent me this image while I was at the airport: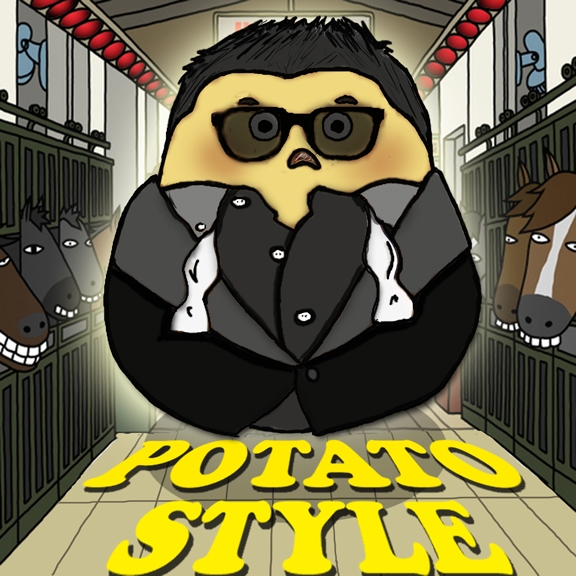 It's now 4:07 am and I just arrived in Seoul.  The driver who was supposed to greet me outside customs with a little "Mr. Selig" sign is nowhere to be seen.  I call the number I was given and, apparently, I wake him up.  He explains in intermittent English that I am "early" and he promises to hurry to the airport.  I'm exhausted.  I'm starving.  So I sit down on a bench with my luggage and start to descend into my own personal "Lost In Translation" hell.
But then something quite amazing happens.  I look over at an odd little cactus garden that has, for some inexplicable reason, been planted in the middle of the arrivals hall.  There is a reconstruction of a desert landscape and many rocks that appear to have been imported from New Mexico.  Then I see a sign that says, simply, "Please Don't Do Bad Thing To Cacti."  I read it again and again and again.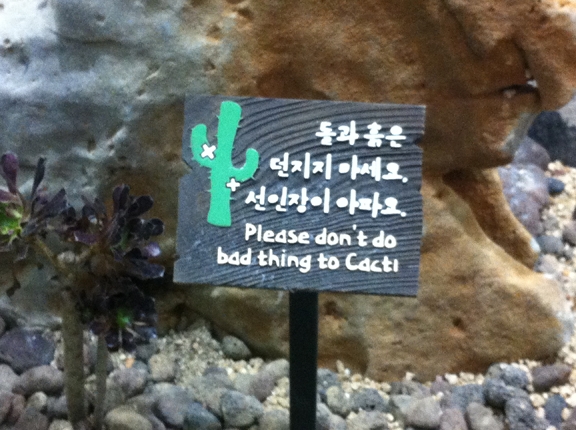 Maybe it was delirium from the lack of sleep, or maybe my body decided it was time to release a few endorphins, but something about this sign began to lift my spirits.  Was it the innocence of the request?  Or all the "bad cacti thing" I was now being forced to imagine?  I don't know.  But I suddenly felt happy to be back in Korea.  I was suddenly eager to attend my meetings and eat long dinners at low tables from lots of small bowls.  And, when my sleepy driver with a major case of bed-head finally rushed into the terminal and said "Welcome to Korea!", all I could say was, "Thanks!  It's good to be back!"  And I meant it.