Oceanhouse launches new Dr. Seuss bookshelf app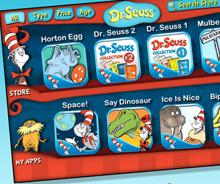 Oceanhouse Media has released Dr. Seuss Bookshelf, a new free app for iOS devices that helps users organize and launch more than 45 Dr. Seuss apps in the App Store.
The app makes it easy for parents and kids to use select titles, find books, games, and cameras, and sort by type, price or age, or use search options to find specific apps.
It also features up-to-date information on new Dr. Seuss releases, sales and suggestions for holidays and special occasions.
Magazine
Our fall edition of iKids Digital is now available! We're taking a look at the migration of virtual worlds to mobile, how to find success in the mobile education space, wearable tech for kids and much more.
Kidscreen on Instagram