BBC commissions Kindle and Plug-in Media for online games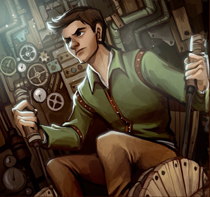 UK-based family entertainment producer Kindle Entertainment and digital media prodco Plug-in Media have been commissioned by the BBC to produce two online games based on two new Kindle kids series, Leonardo and Get Well Soon.
The first game, based on the second season of CBBC's Leonardo series, features 3D chase gameplay in an interactive comic strip format. The Leonardo game lets users play as the title character and drive his inventions through Renaissance Florence attempting to capture the evil Il Drago and his henchmen who have stolen Leonardo's vehicle designs.
Leonardo, which will be available on the CBBC website, is one of the first online games to use the 3D engine Unity published to Flash, which produces 3D rendering comparable to console gaming.
The second game, based on the new CBeebies preschool series Get Well Soon, helps preschoolers learn about childhood illness, but in a fun way featuring puppets from the series and host Dr. Ranj. The game will be available on the CBeebies website.
Magazine
Check out our latest issue of iKids Digital! We've got the scoop on the latest social media marketing tactics, the tablets that kids and parents can't put down, and new insights on how youth are using social networking sites.
Kidscreen on Instagram