Toon Goggles hits the MEEP! kids tablet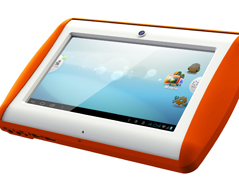 Free online kids channel Toon Goggles has partnered with global electronics company Oregon Scientific in a deal that will see the Toon Goggles app preloaded onto the new WiFi-enabled MEEP! kids tablet.
Designed for kids ages six and up, the Android-powered MEEP! tablet is currently available in the US and Canada and features a 7-inch touch screen, customizable web-based parental controls, preloaded kids content (games, eBooks, movies, music) and access to Google Play.
The Toon Goggles app provides over 1,000 hours of entertainment and educational programming for kids.
The latest deal comes on the heels of Toon Goggles announcing its branded mobile app for iOS devices is now available for worldwide download.
Magazine
Check out our latest issue of iKids Digital! We've got the scoop on the latest social media marketing tactics, the tablets that kids and parents can't put down, and new insights on how youth are using social networking sites.
Kidscreen on Instagram