Skyreader partners with San Diego Zoo for iPad app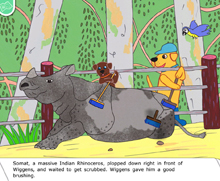 Toronto, Canada-based Skyreader Media, part of Skywriter Media and Entertainment Group's eReading division, has released Wiggens Makes Friends at the San Diego Zoo, a new interactive eBook app for the Apple iPad.
Co-authored by bestselling children's author Leslie McGuirk and author-restaurateur Alex von Bidder, the eBook features a new adventure of Wiggens, the Chocolate Labrador puppy, who takes kids on a behind-the-scenes tour of the San Diego Zoo tapping into themes of discovery, exploration, and conservation awareness.
The new eBook, which has a similar interactive experience to Skyreader's recent hit iPad eBook Draw Along Pip (also by McGuirk), is now available on the App Store and on Skyreader's website bookshelf at www.SkyreaderMedia.com.
Magazine
Our fall edition of iKids Digital is now available! We're taking a look at the migration of virtual worlds to mobile, how to find success in the mobile education space, wearable tech for kids and much more.
Kidscreen on Instagram