Disney XD to bow Crash & Bernstein in October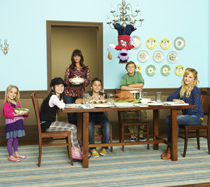 Blending live-action and puppetry, Disney XD's new kids comedy series Crash & Bernstein will premiere on Monday, October 8 at 8:30 p.m. ET/PT.
The It's A Laugh Productions-produced series, which is created by Eric Friedman (Austin & Ally, I'm In The Band), follows the everyday adventures of 14-year-old Wyatt Bernstein whose longing for a brother (he has three sisters) comes true when his puppet Crash comes to life.
The series stars newcomer Cole Jensen as Wyatt and acclaimed puppet master/filmmaker Tim Lagasse (Sesame Street, Between the Lions, and Blue's Room) plays Crash.
In advance of the series premiere, DisneyXD.com/Crash is launching an online game on September 17 called Crash This Site that allows Crash to physically destroy any website piece by piece when users add a bookmark to their browser toolbar. On September 24, another online activity game, Wyatt's Room Remodel, launches, and on the premiere date, a new virtual-reality arcade game, Bro-tastic Games, will hit the site.
Magazine
Check out our latest issue of iKids Digital! We've got the scoop on the latest social media marketing tactics, the tablets that kids and parents can't put down, and new insights on how youth are using social networking sites.
Kidscreen on Instagram