Daniel Tiger hits the App Store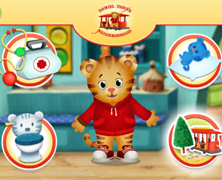 In the lead up to the PBS Kids premiere of new series Daniel Tiger's Neighborhood on September 3, PBS Kids has released the first app for iOS devices based on the series entitled Daniel Tiger's Neighborhood: Play at Home with Daniel.
Available now for iPhone, iPad and iPod touch, the US$1.99 app targeting kids ages two to four lets kids play with main character Daniel, the son of Mr. Roger's Neighborhood's Daniel Striped Tiger, as he goes about his daily activities, and features three fun interactive learning games, Doctor Daniel, Daniel's Bedtime and In Daniel's Bathroom.
Daniel Tiger's Neighborhood: Play at Home with Daniel is produced by The Fred Rogers Company and Brighton, Massachusetts-based digital developer CloudKid.
PBS Kids now has 19 apps available in the Apple App Store that encourage kids to learn literacy, math, science and school-readiness skills.
Magazine
Check out our latest issue of iKids Digital! We've got the scoop on the latest social media marketing tactics, the tablets that kids and parents can't put down, and new insights on how youth are using social networking sites.
Kidscreen on Instagram