Spil Games partners with Universal to promote ParaNorman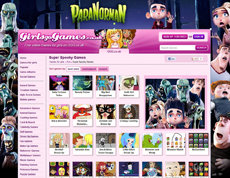 Online gaming provider Spil Games has joined forces with Universal Pictures to promote the international release of the 3D stop-motion animated feature film ParaNorman.
The spooky yet comedic film, from Portland, Oregon-based animation studio Laika (Coraline), is set to premiere in the UK on September 14.
Spil's online campaign, which was brokered by TED@MediaCom and is live in the UK from August 27, features zombie games, additional game hubs, avatars, and new game categories across all three of Spil's UK properties – GirlsgoGames.co.uk, Agame.com, and Games.co.uk.
Spanning 22 markets in Europe, Latin America, and the Asia-Pacific region, the campaign first launched on July 17 in Mexico, followed by France, Germany, and the UK. The promotion ends in January 2013 in Australia and New Zealand.
The campaign focuses around a fully branded microsite, which includes the trailer, film synopsis, image gallery, exclusive ParaNorman avatars for Spil Games, a new zombie gaming category, and additional downloadable assets for kids.
Spil Games currently has more than 180 million monthly active users, and after its first two weekends of North American release, ParaNorman has racked up US$28.3 million in box office sales.
Magazine
Our fall edition of iKids Digital is now available! We're taking a look at the migration of virtual worlds to mobile, how to find success in the mobile education space, wearable tech for kids and much more.
Kidscreen on Instagram