Ben 10 Omniverse to bow globally September 22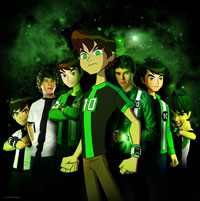 Cartoon Network's new animated Ben 10 Omniverse series will roll out globally on Saturday, September 22 at 9 a.m. (ET/PT) covering more than 178 countries and 27 languages.
The launch marks the first time Cartoon Network has premiered a series so closely together across so many Cartoon Network territories in a coordinated global campaign, which begins in the US.
In conjunction with the launch, CartoonNetwork.com is updating its online Ben 10 Game Creator game to jibe with character designs from Ben 10 Omniverse. To date, more than 1.4 billion games have been played in the game with 7.2 million games created.
CartoonNetwork.com is also launching a Ben 10 blog which can be found on the new online Ben 10 Hub and the first episode of the new series will be available for free download on iTunes, Amazon, Playstation, Xbox and iNdemand through Sept. 28.
New consumer products for the series will roll out this fall including new toys from Bandai, an interactive game from D3Publisher and apparel from Freeze. Since 2006, the IP's program has generated more than US$3 billion at retail worldwide.
Magazine
Our fall edition of iKids Digital is now available! We're taking a look at the migration of virtual worlds to mobile, how to find success in the mobile education space, wearable tech for kids and much more.
Kidscreen on Instagram