Details confirmed for new Moshi Monsters apps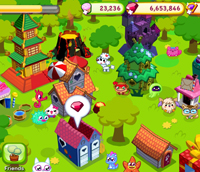 UK-based Mind Candy and social gaming company Gree have announced new details of the first two Moshi Monsters mobile apps to materialize from their recent partnership.
Moshi Monsters Village, a 3D game for families that lets players design their own town, and Moshi Monsters: Lost Islands, a card collection and puzzle game, will be available for mobile devices from fall 2012.
In Moshi Monsters Village, players can also rescue Moshlings from the evil Dr. Strangeglove in featured mini games, while Moshi Monsters: Lost Islands allows fans to discover new islands, play puzzle mini games, collect Moshling cards and Moshi characters.
The announcement comes on the heels of Mind Candy hiring ex-Playfish exec Ken Ward as its director of talent and acquiring UK games studio Origami Blue.
Magazine
Check out our latest issue of iKids Digital! We've got the scoop on the latest social media marketing tactics, the tablets that kids and parents can't put down, and new insights on how youth are using social networking sites.
Kidscreen on Instagram