Netflix Just For Kids hits the XBox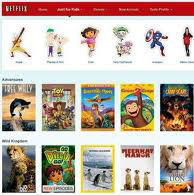 Taking children's content to an even broader audience, the Just For Kids section on Netflix is now available on Microsoft's Xbox 360 entertainment platform in the US.
Aimed at kids ages 12 and under, Just For Kids offers a large selection of child-appropriate TV series and movies with features including character-based selection and display titles organized by genre such as superheroes, princesses, dinosaurs and girl power. Netflix members can also customize their choices based on taste and favorites.
Netflix Just For Kids is now available on Sony's PlayStation 3, Nintendo Wii, Apple TV, PCs and Macs, and select Smart TVs, Blu-ray players and streaming media players.
Since Just For Kids debuted on Netflix in August 2011, more than two billion hours of kids titles have been viewed by Netflix members.
Magazine
Check out our latest issue of iKids Digital! We've got the scoop on the latest social media marketing tactics, the tablets that kids and parents can't put down, and new insights on how youth are using social networking sites.
Kidscreen on Instagram