I've never claimed to be the healthiest person when it comes to my work habits.  From a very young age I've suffered from a restlessness that drove me into a variety of time-consuming and not particularly fruitful hobbies:  Magic, coin collecting, juggling and, yes, rug hooking.  I was not particularly good at any of these hobbies, but they did help me focus my energy and, in some subterranean way, they laid the groundwork for the type of work I do now.
Some people I know have trouble keeping busy.  I have trouble stopping and, as everyone knows, it's very important to stop now and then.  Most of the well-adjusted people I know do this during the summer.  Some of them have things called "cottages" and they go to places called "beaches" and lots of them have these amazing things known as "families."  Friends often send me links to photos of their summer vacations and I eagerly click through the images and marvel at the sun-kissed faces, the little smiles poking out of the swimming pools, and the paper plates filled with hamburgers and potato chips.  "Wow," I think, "that looks like a lot more fun than what I'm doing."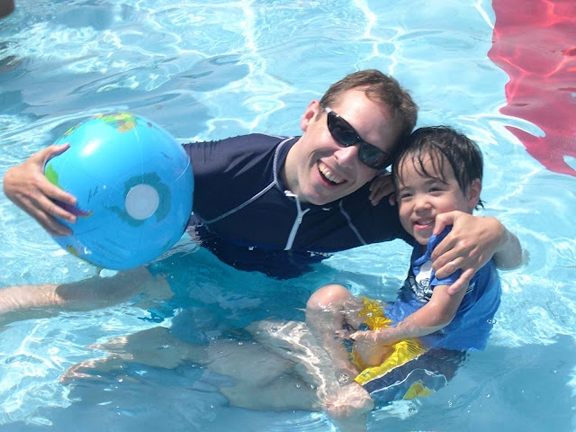 So, what am I doing this summer?  The same thing I do in the spring, the winter and the fall.  As many of you know, the life of a small indie has two main focuses:  Getting work and making work.  When you don't have the work, you stress about getting it, and when you do have the work, you stress about getting it done.  In other words, you're always under pressure and, unfortunately, this is not particularly impacted by the change of seasons.
On summer weekends, Mary and I usually like to stay pretty close to home in lower Manhattan.  We do occasionally take breaks from our computers (yes, she has trouble stopping, too) and we walk our dog Buffy along the promenade by the Hudson River.  We like to go over to an area called North Cove and drink light beer, and watch the sunset and talk.  Granted, we mostly talk about our work, but that's what you do when you're two workaholics in August in New York.
I do fantasize about a time when I will work less and play more, a time when I, too, will sit happily by a swimming pool in summer and eat hamburgers and potato chips.  My friend Cathy Chilco believes I would be happier and more productive if I toiled less and took more time off.  She may be right, but her theory sounds a bit too risky for me to actually try.  So, for now, I will continue to check my e-mail on Sunday (because, you know, in Malaysia it's already Monday) and maybe one day I'll learn to kick back with a bestseller or spend a day at the beach or even go to a summer cottage.  But, for now, I have a blog to hand in.