Aardman's Animate It! hits the App Store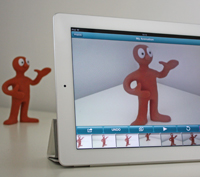 Aardman Animations has expanded its online Animate It! property into the app space with the debut of its new Animate It! app for iPhone and iPad.
Now available at the Apple App Store, the new app enables kids and adults to create their own stop-motion animations on the go using tools including a time lapse feature, variable frame rates, as well as copy, paste, reverse sequence, edit by deletion and reorder frame functions. Users can also export animation files in HD for sharing.
A video demonstration of the new software made by two animation fans enlisted by Aardman can be viewed on YouTube here.
Aardman initially launched the Animate It! website in March through a partnership with UK-based indie publisher Kudlian Software.
Magazine
Check out our latest issue of iKids Digital! We've got the scoop on the latest social media marketing tactics, the tablets that kids and parents can't put down, and new insights on how youth are using social networking sites.
Kidscreen on Instagram