Spin Master to launch new doll line in Times Square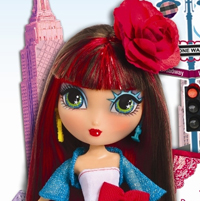 Canadian toyco Spin Master is set to launch its new La Dee Da doll line for girls ages six to 10 on August 9 with a special event in New York's Times Square.
The new La Dee Da brand, which was announced in February, is a fashion label created by a New York City teen named Dee and her three best friends, Tylie, Cyanne and Sloane.
Featured at the event will be the unveiling of the complete line including the Signature Dee Doll, Sweet Party Collection and Runway Vacay line, as well as photo opportunities, iPad games, a DJ dance party, raffles, and celebrity appearances.
The La Dee Da line and accessories are now available at North American retail and specialty stores and online at www.LaDeeDa.com.
The brand is also further expanding into the digital space with new interactive content on its website, eBooks, and apps for iOS mobile devices.
Magazine
Check out our latest issue of iKids Digital! We've got the scoop on the latest social media marketing tactics, the tablets that kids and parents can't put down, and new insights on how youth are using social networking sites.
Kidscreen on Instagram