How do I get myself into these kind of situations?  How do I write something interesting for my peers to read?  I mean, I've only been producing kids' shows for five years, and many of you are people I look up to.
I'm the creative director at Sixteen South – and we make preschool shows in puppetry, live action and animation.  We're based in Belfast, Northern Ireland and we've been blessed to have already produced four puppet-based shows with four great partners: Sesame Tree, Big City Park, Big and Small and most recently, Pajanimals, where we partnered with the Jim Henson Company and Sprout – which airs daily on Sprout and on the NBC Saturday morning block.  I know it sounds cheesy, but I do love what I do.
Before starting Sixteen South, I owned and ran a successful commercial post and animation house for almost 10 years.  One of my character traits is patience.  And yes, I know that the words producer and patience fit as naturally together as affordable and hotels in Cannes.  But that's me.
Over that decade of working commercially, I had many opportunities to lose my patience, and on occasions I probably should've parted ways with a number of my lovely people for a whole host of reasons.  Maybe the guy who sent the wrong master to the DVD repro house who only realised after taking delivery of 5000 shiny coasters.  Or the guy who brought our network to a standstill with his over-enthusiastic downloading of large lady memorabilia.  Nope, as patient and forgiving as I am, they both stayed for a while.  But another kind of guy didn't stay.  He left.  Because he suffered from the dreaded disease of IDR.
Some of you might be lucky to not have this virus in your organisation.  Some of you might (and I'm sorry for your trouble if you do).
I googled 'IDR' and most of the results involved Irishness.  That made me chuckle.  But I am fairly sure that it exists in most cultures.
IDR - 'It'll do rightly'
Do you recognize it?
An IDR strain in any organisation, particularly a creative one is a killer.  IDR is the ability to happily let substandard work pass through.  The 'couldn't-be-bothered' mindset, the 'get-the-job-done-as-quickly-as-you-can' philosophy.
I can tolerate and forgive mistakes or stupidity, but I can't ever forgive IDR – and, when someone catches IDR, they have it for life.  The only cure is prevention.  But where does it actually come from?
It is learned.
I believe that it comes from our professional formative years – I don't believe that anyone ever teaches the philosophy of 'Look, when you get a job, go in as late as you can and spend all day watching the clock for coffee breaks.  If you see small mistakes, just crack on as you'll end up working late.  Slope off early for lunch.  Make as many dentist appointments as you can.  And, don't appear too keen or you'll get everything dumped on you.  Be the person who can't really be relied on, then you wont be asked.'
No teacher or art college, film school or university would ever teach that. But it's not what they ARE teaching, it's what they're NOT teaching.
Are we teaching the next generation entrepreneurship, drive, ambition, and fulfilment?  Are we teaching them that they can have a successful career as a producer, animator, composer or writer and that everyone doesn't have to be a doctor?  Are we teaching them that maybe they can change the world?
The most influential teacher in my life was my A-level Biology teacher.  She gave me some wise counsel in my last days of school.  I'd like to share that with you. She told me that 'I was a waste of space and would never do anything with my life.'  Touching, isn't it?
We need trusted leaders with integrity, creativity and honesty.  And above all, people of passion.
People of passion teaching in our schools, in our art colleges, film schools and universities.  People of passion leading indies, and people of passion commissioning new preschool shows.
Passion is the opposite of IDR.
I know many of you to be people of passion.  Let's pass it on.  Passion is contagious; let's do what we can in our schools, colleges and universities to inspire the next generation.  Let's share our knowledge with interns and let them see our hearts.  When we share what we have, we never lose it or give it away.
Our next project is a mixed-media animated preschool show called Driftwood Bay – and it's a real passion project for us.  It's one of those rare wow moments I've had in my career when I've felt that what we have is really, really special.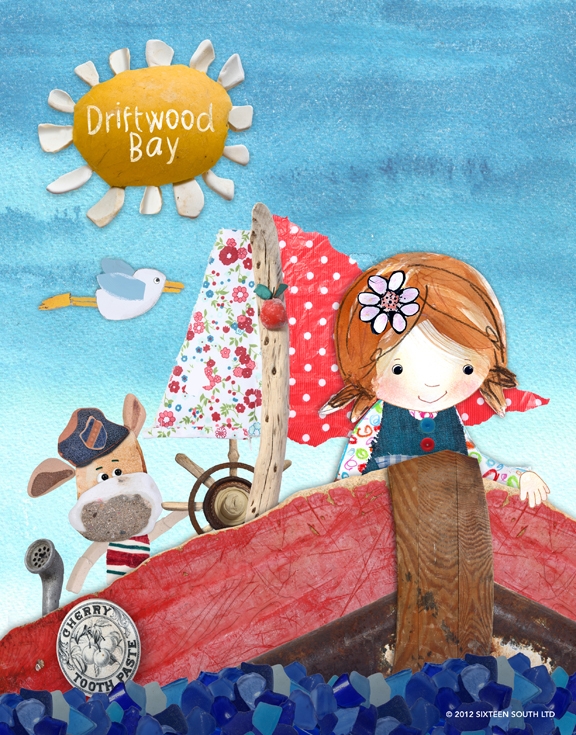 It's a show about a six-year-old girl called Lily who lives in a beach hut on the shore with her Dad.  Every day, the sea washes up a curious new treasure, which sparks Lily's imagination about what might be happening across the way on Driftwood Bay.  And so, with her best friend Gull – the clever seagull, an adventure begins as they head off to Driftwood Bay.  The unique design features characters, sets and landscapes that have been completely created from things that have been actually found washed up on the beach.
The way we're producing and financing Driftwood Bay doesn't fit the normal template.  We took a decision not to sell the show to a single broadcaster as a commission, because we wanted the stories, characters and art to work universally.  Instead, we're selling the show to broadcasters around the world as a series of acquisitions, so that children around the world can enjoy Driftwood Bay, and our themes that celebrate the goodness of life and relationships.
And without passion, this show could never be made.
So, let's be people of passion, and take it into every boardroom, pitch and meeting.
And let's banish the fatal disease of IDR from our industry for good.