Disney launches pixel animation app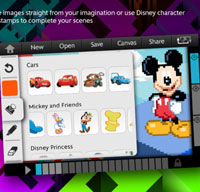 Disney Interactive has launched a new free app for iPhone, iPad and iPod Touch devices called Disney Pixel'd which enables kids and adults to create Disney-themed pixel art and animations.
Developed by the creators of  creativity site Create on Disney.com, where users have produced more than 16 million pieces of original artwork since it launched in August 2009, Disney Pixel'd features a frame-by-frame animation tool, shaping tools, iCloud sync, Disney character stamps, and a Buddy Draw feature which lets multiple friends connect via Bluetooth or Wi-Fi to draw together in real-time.
A YouTube video of the Disney Pixel'd experience can be viewed here.
For more information in the Contact directory:
Disney Online
Magazine
Check out our latest issue of iKids Digital! We've got the scoop on the latest social media marketing tactics, the tablets that kids and parents can't put down, and new insights on how youth are using social networking sites.
Kidscreen on Instagram