I think that most of us would agree that much of what is made for and consumed by preschool children – books, music, shows, and films – sucks.  And just so nobody thinks that I believe I'm above the fray, I'll readily admit that I have made a lot of work over the years that has sucked, too.  I'm sure we all have.  So, since no one is being singled out here, let's talk honestly about why so many shows suck.
There are many culprits, of course, but the main culprit is not the one that most people blame:  Money.  Shortage of funds is typically just a red herring for why shows suck, and only those who use this excuse ever buy this excuse.  "We just didn't have enough in the budget to cast a kid who could sing." "We couldn't afford writers who could write funny jokes."  Hmmm.  We've all seen brilliant shows that were made on a shoestring and disasters that cost a mint.  As everyone knows, a good producer can always find a way to make quality work even within the most modest of budgets.
So, if it isn't lack of money, then why do so many preschool shows suck?  I have thought about this question a lot over the years and this week I came up with a short list of reasons.  It is by no means comprehensive but, then again, I have always sucked at making comprehensive lists.
1)  Too Many Cooks.  Many kids' TV shows suffer these days because they rely on co-production models that spread production across the globe in ways that make any unified approach to the creative almost impossible.  It is not uncommon for head writers to receive four or five sets of conflicting notes from broadcasters and IP owners.  It is also not uncommon for there to be no show-runner who is overseeing the progression of every episode through the pipeline to make sure it all holds together.  This lack of a creative focus leads to mediocrity.  Just as it would be hard to prepare a yummy meal in which the vegetables were being sautéed on one continent while the fish was getting poached in another, our current (and unavoidable) reliance on international co-productions has made it very hard to deliver truly yummy shows.  In other words, we not only have too many cooks but we also have too many kitchens.
2)  Copycats.  The worst shows are the ones that try to replicate what someone else did that worked.  I attended a really interesting presentation by one of the larger toy companies this year on preschool TV and the conclusion was that every TV-based mega-toy hit since the beginning of time broke every rule that had been established before that show premiered, from Sesame Street to Teletubbies to Dora. So, why do people bother making copycat shows?  See below.
3)  Laziness.  From writing to design to music to the creation of a new show, laziness abounds.  People call the same casting agents and cast the same voice actors again and again.  They hire all the same writers who warm up old plotlines and dialogue from their past six series.  Is it any wonder that so many preschool shows sound the same?  It takes hard work to design a great character or cast a great voice or compose really good music for a show.  But it is exactly this attention to detail that makes shows great.
4)  Niceness.  In my view, the best creative teams are both collaborative and hierarchical.  Yes, people must work together but someone at the top must be able to say "yay" or "nay" and protect the delicate vision of their show. Without this leadership, projects quickly become soft, democratic, and uninteresting.  I have been involved with many series where everyone was uber-nice to everyone else and every creative idea was celebrated as if a toddler had just taken his first dump into the potty.  These shows may be fun to work on but they are certainly no fun to watch.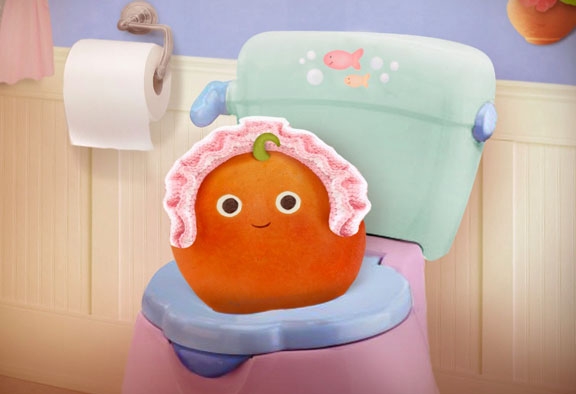 When I was five I used to have a shoe shine box and during the block parties on West 89th Street where my family lived, I would shine peoples' shoes for fifty cents.  My creative older brother, by contrast, made beautiful jewelry in a little kiln and sold it at the same block party and made a lot more money than I did.  Though none of us can control which gifts we were born with and which ones we were denied, I do think we can all work hard to improve in the areas that may not be our strongest.  In other words, we can all strive, in our own ways, to suck a little less.