I'm home.  I'm happy to be home.  I love home.  But I did have a wonderful week last week in the UK.  In addition to my adventures in Sheffield at the Children's Media Conference, I took a side trip to Glasgow to run a two-day workshop for BBC Scotland Children's.  The focus of the workshop was creating preschool television (what else?) and the attendees were a combination of local Scottish indies, freelance writers and in-house folks from CBeebies and CBBC Scotland.  I must say, it was an extraordinary two days of creativity, storytelling, collaboration and laughter.
Part of the goal of the workshop was to incubate a few ideas that Sara Harkins – who organized the event and heads up the children's area for BBC Scotland – might put into development.  Sara was clear with the group that she wanted to explore shows that were uniquely Scottish, though she was very open as to what exactly "Scottish" might mean.  Though I can't share with you the ideas that emerged from our sessions, I will say that this community of writers, animators, and indies made a very deep impression on me.
Their show ideas were not influenced by the spectre of licensing that shapes so many preschool shows these days, including most of my own.  Rather, their projects were about elements of Scottish culture that deliberately transcended the stereotypes that we've all grown up with of shaggy men in tartan kilts marching into battle accompanied by the long shrill of bagpipes.  Even Pixar's recent hit Brave did not capture the Scotland that this group wanted to share with the world through their shows:  A Scotland defined by the quirkiness of it's small coastal towns, a spirit of openness towards newcomers, a deep passion for the natural world, and a love of language as revealed in sayings like, "Many a mickle makes a muckle."
There was also quite a bit of discussion about the Scottish sense of humor which, it was made clear to me, differs greatly from the sense of humor in other parts of the UK.  One local animation director, Dana Dorian from Axis, took me on a walking tour of the Glasgow city centre and told me he wanted to show me something that he felt best symbolized the uniquely Scottish sense of humor.  As we rounded a corner, I saw the austere stone statue of the Duke of Wellington riding on a horse with an orange traffic pylon perched atop his head.  Apparently, no matter how many times the authorities take this pylon down, someone manages to quickly climb up Wellington and replace it with another one.  "That," said Dana, "is the Scottish sense of humor."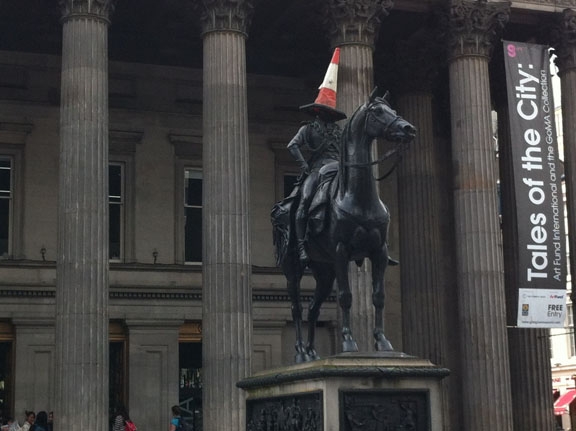 The other thing I was struck by in Glasgow was the modesty of the people I met.  This is not a city where people put on airs or speak down to those who have less of anything, be it resources or connections.  This is not a city where a novice writer, producer or animator is made to feel excluded by those with more power or experience.  Rather, this is a community of hard working creatives who seem to understand intuitively that artists and producers need one another to make their work and to build critical creative alliances.  Glasgow felt particularly egalitarian to me which, I must say, was a very refreshing change of pace.
I have participated in many such workshops over the years, from Qatar to Shanghai, but, for me, Glasgow was unique.  I think this was largely due to Sara Harkins's willingness to engage in an honest dialogue with the local indies and freelance writers, and to explore creative approaches in a safe, generous and collaborative environment.  In fact, I was very impressed by Sara on many levels:  She is a compassionate and forward-thinking leader and I believe it took real courage and vision to open the doors of the BBC for two days of creation and friendship with the indies. Thank you, Sara.  I, for one, left feeling very inspired.