Dispatches from the Children's Media Conference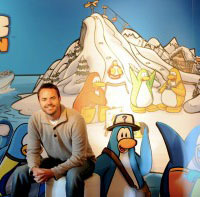 Greetings from the old steel town of Sheffield, England, best known for two things:  1. The Full Monty was shot here in 1996. 2. The Children's Media Conference takes place here every year.
The CMC is a gathering of the UK children's production, broadcast, digital and publishing communities and, increasingly, the event draws guests from around the world.  Though I've only been here for half a day, I've already heard three telling quotes I'd like to share with you.
The first was from independent consultant, Miles Bullough, who said, "It's hoped the UK tax credits will be in place by April 2013, but it's not guaranteed and it could be delayed.  Even when it comes in it will take awhile to rebuild the animation infrastructure in the UK which was severely depleted over the last three to five years.  Having said that, the tax credit will be the best news the UK animation industry has had for a long time."
The second quote came from Lane Merrifield of Club Penguin (pictured) who delivered the keynote speech. "The best ideas come from the audience," he said. And, finally, the last and perhaps the most revealing quote came from Dr. Charles Kriel of 12 Stories Tall who said, "The big institutions are looking creaky."
Check back tomorrow for more on the CMC!  – Josh Selig
Tags: Dr. Charles Kriel, Lane Merrifield, Miles Bullough, The Children's Media Conference
---