Woozworld to feature Beaver Fleming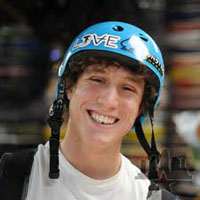 Following in the footsteps of other celebrities including Greyson Chance and deadmau5, who have appeared on Woozworld.com, teenage skateboarding phenom Christopher "Beaver" Fleming will now be a part of the tween virtual world and social network.
Known as one of the world's best up and coming skateboarders, the 18-year-old Fleming will be interviewed by Woozworld's sports guru Jay Wooz during his weekly talk show and take questions from fans.
In addition, Woozworld has created customized branded virtual spaces so kids can learn more about Fleming, view his latest videos, go to his website, and get the schedule of his upcoming competitions.
Users can also buy branded virtual goods, link to Beaver's online store, and communicate with him through the WoozIn social network.
Magazine
Check out our latest issue of iKids Digital! We've got the scoop on the latest social media marketing tactics, the tablets that kids and parents can't put down, and new insights on how youth are using social networking sites.
Kidscreen on Instagram