Little Airplane launches Facebook app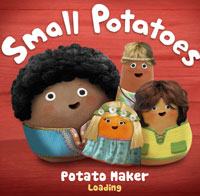 Little Airplane Productions has partnered with UK-based social gaming platform Huzutech to create The Small Potatoes Potato Maker, an HTML5 app for the Small Potatoes Facebook page.
The new app, which is set to launch on July 1, will allow the more than one million Facebook fans of the short-form animated series to create, customize and share their own Small Potato
Features include hundreds of free dress-up assets (clothing, accessories and facial expressions) and fans can share their creations as photos, avatars, profile or cellphone pictures.
Exclusive limited edition assets such as a "Rockstar" pack and a fantasy-based "Princess" pack can also be accessed through Facebook credits.
During the app's beta-testing period, Small Potatoes Facebook fans created more than 2,500 custom potatoes in the first three days.
The Josh Selig-created series debuted on CBeebies in May 2011 and also airs on Disney Junior US, ABC Australia and TVO and Knowledge in Canada.
Magazine
Check out our latest issue of iKids Digital! We've got the scoop on the latest social media marketing tactics, the tablets that kids and parents can't put down, and new insights on how youth are using social networking sites.
Kidscreen on Instagram