Today I'm flying to Las Vegas for Licensing Show.  After spending the last week on various European airlines, I can't help but notice how primitive the US airlines are by comparison.  For example, on Lufthansa, we all got our own little high-def screens where we could watch new releases, check our flight path on Google Maps, or buy a big bar of Toblerone.  On my US airline, however, we are all watching the same B-movie on a single 1980′s video monitor hung in the center of the aisle, not unlike you would see on a bus ride through the mountains of Peru.  This plane is so old that there are actually ashtrays outside of lavatories, relics from an era when you could smoke on airplanes.  I'm not usually one to complain, but I do find that – when it comes to air travel – the US is simply not #1.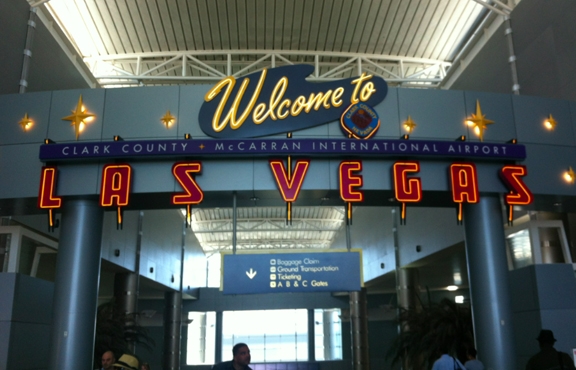 I'm glad we got that out of the way.  So, why am I going to Las Vegas for Licensing Show this week?  After all, wasn't I the guy who used to describe licensing as "the dark side of the force?"  Well, yes, I was.  But times have changed, the way preschool shows are financed has changed, and, above all, I have changed.  These days, I confess, I love licensing.  And I'm not even being facetious.  Creatively I love licensing because it allows me to spend more time with my characters after our shows get delivered.  I love the style guides, putting together "the deck," and the whole delicate alchemy of transforming a preschool show into licensed products.  Financially, I love licensing because it allows us to receive checks for work that we made years ago.  When handled correctly, licensing is the gift that keeps on giving.  Perhaps this sounds like I have sold out but I prefer terms like "flexible" and "still in business."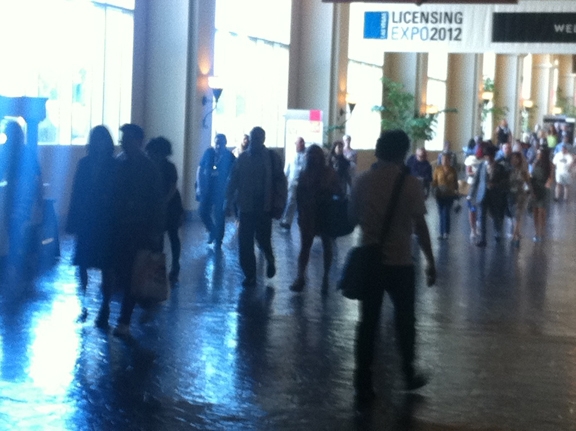 Fast-forward a few days.  I am now on board a United Airlines flight from Las Vegas to Los Angeles.  I feel both over-stimulated and depleted.  I've been rushing between half-hour meetings all week spreading the gospel of the Small Potatoes to potential licensees who make everything from t-shirts to, dare I say it, french fries.  It feels strange to be sitting still for even the hour it takes to fly to L.A.  My mind expects me to be at some phantom meeting that does not exist.  I try to just settle down and gather my thoughts on the busy week and write this blog.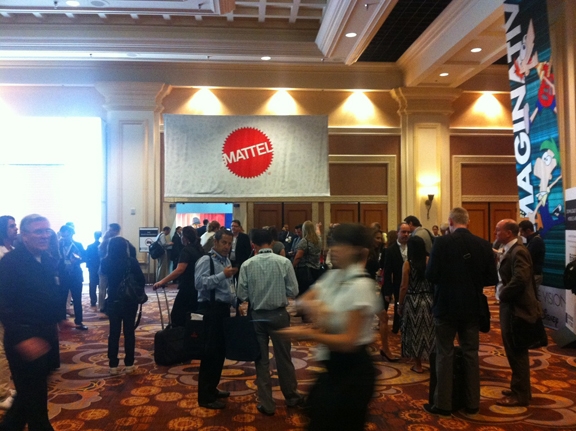 Since I've only attended a few Licensing Shows, I can't really give you an informed summary of this year's Expo except to share with you what some of the licensing industry veterans told me.  Many folks commented on the lack of Europeans at this year's event, attributing their absence to the venue's shift to Las Vegas from New York.  Not coincidentally, I was told, there has been an increase in attendance at Brand Licensing Europe in London.  I spoke with one of the larger US toy companies who lamented that the change in venue to Las Vegas also meant a significant decline in press attendance.  I have to agree that it seemed much quieter in general this year and, selfishly, I hope that one day Licensing Show will return to New York.
The other big story of Licensing Show was the focus on digital brands that don't have – and don't seem to need – a broadcast platform.  Many companies expressed their admiration for Commonwealth, the licensing agency that struck gold by signing up Angry Birds before it was a hit.  But figuring out which app will be the next Angry Birds or which YouTube viral video will be the next Annoying Orange certainly isn't easy and seemed to create great angst and confusion in Las Vegas.  It's always been hard to pick winners in show business, but there seems to be something about our new digital age that makes it almost impossible.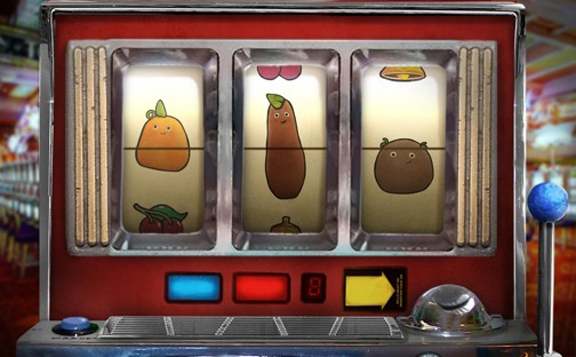 And now I'm on my last flight of the week, this one heading home to New York from Los Angeles.  I am sitting beside my favorite person in the whole world, Mary, who was able to join me and much of the Little Airplane team in Los Angeles for the Daytime Craft Emmy Awards.  If you've never been to this ceremony, it celebrates an odd cornucopia of TV shows ranging from soap operas to kids' shows to the Macy's Thanksgiving Day Parade.  I'm proud to say that Little Airplane received five nominations this year and we were fortunate to take home an Emmy for Outstanding Musical Direction and Composition for Wonder Pets.  A big congratulations to the whole team for a job well done.
As we fly over the mid-west it hits me just how exhausted I am from the traveling and schmoozing and the buffets and cheap white wine.  All I really want now is to get home and see Buffy and watch my own TV and sleep in my own bed.  Tomorrow I will be happy to get back to Little Airplane where, instead of talking about my shows, I can actually get back to making them.  Because, for me, that's still the thing I love most – more than any award or licensing deal – just making my shows.