When I was in Vancouver last week, my friend Cathy Chilco gave me a book by the Buddhist teacher Pema Chödrön called Comfortable With Uncertainty: 108 Teachings on Cultivating Fearlessness and Compassion.  Now, Cathy was my boss on the Israeli-Palestinian version of Sesame Street in the late 90′s so she knows a few things about fearlessness and compassion.  Cathy also happens to be a much deeper person than I am so whenever she gives me a book, I read it.
Though I don't expect that I'll be converting to Buddhism anytime soon (I'm hopelessly attached to life's banal pleasures like chocolate, nachos, and reality TV), I did find Pema Chödrön's book very interesting.  I even found many parallels between the suffering that is at the heart of all Buddhist teachings and the suffering that is at the heart of being an independent kids' TV producer.  So, in the hope that I might help alleviate some of your indie angst (as well as mine) I've taken the liberty this week of adapting a few of the basic tenets of Buddhism to fit the challenges that face so many animation studios these days.  I have decided to name my new indie theology "Joshism" and I welcome all indies, large and small, to join my flock.
The Four Noble Truths Of Joshism
1)  Being An Indie Sucks.  By accepting that being an indie sucks, you will not be quite so surprised when sucky things happen to you.  These may take the form of broadcasters not returning your e-mails, mindless script notes from twenty-somethings, eating your own line items for lunch, or license fees that don't even cover your digibeta tapestock.
2)  The Origin of Indie Suffering is Attachment.  Indie suffering is caused by the belief that you should be paid for the work you do and should not be asked to give it away for free.  The sooner you give up your attachment to this outdated belief, the happier you will become.  (And just FYI, Mother Theresa doesn't get paid for her work, either.)
3)  The Cessation of Indie Suffering Is Attainable.  Fortunately, there is a way to alleviate the suffering that comes with being an indie.  For starters, Joshism recommends giving up all dependence on worldly status, wealth, fame, keeping your rights, getting a good time slot, or anything else that might make for a nice press release.  In short, if you don't need these things, you won't miss them when they don't happen or simply go away.
4)  There Is A Path To The Cessation of Indie Suffering.  For those of you who are determined to attain Indie Nirvana (or at least stay in business until 2013), there is a path that Joshism encourages you to follow.  We call this The 8-Fold Path and only those indies who are truly dedicated, truly pure in spirit and truly have no other career options are likely to complete the path and find Indie success.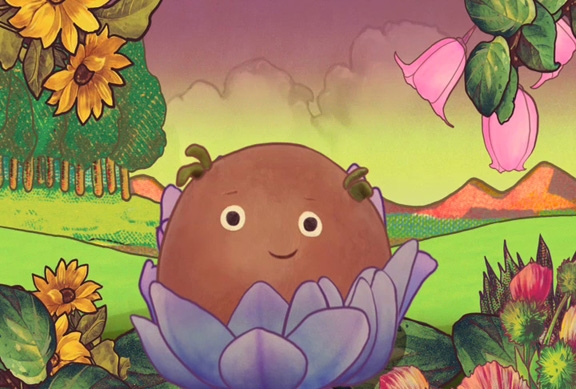 The 8-Fold Path of Joshism
1)  Right Creative – Your creative must be killer.
2)  Right Budget – Your budget must fit inside a fanny pack.
3)  Right Contacts – You must have some unburned bridges.
4)  Right Curriculum – Not too heavy or you lose Europe.
5)  Right Market – MIPCOM > The Nantucket Film Festival.
6)  Right Lawyer – You get exactly what you pay for.
7)  Right Licensing – Wheels, wigs and wardrobes.
8)  Right Tongue Biting – You must learn to keep your mouth shut even when you know the person talking to you is wrong.
Though the challenges of being an indie have never been greater, Joshism believes that the rewards of this vocation still make it well worth the effort.  What are the rewards?  The opportunity to create and produce your own shows in your own way.  The chance to write a song that someone will sing 10 years from now.  And the chance to make something more important and more lasting than money:  Quality.
Ommmmmmmm…