Today I'm on board Porter Airlines flight #136 from New York to Toronto.  My plane has only a few dozen seats and the smiling guy who greeted me at the door is the same smiling guy who just taught me how to use my seatbelt.  There are no big jet engines on a Porter airplane, just two cute propellers that apparently spin fast enough to get me and my fellow travelers all the way to Toronto.  So, in a nutshell, Little Airplane is flying on a little airplane.
Why am I going to Toronto?  Because Canada has mastered the art of wooing preschool shows, including one of my own, across its scenic borders with the promise of high quality animation and gobs of free Canadian money.  In addition to its production-friendly government, Canada also happens to be roughly in my time zone and, with the exception of the word "Eh," they speak the same language that I do.  And the dumplings are also quite good.  So, for an American preschool indie like myself, Canada has become unavoidable.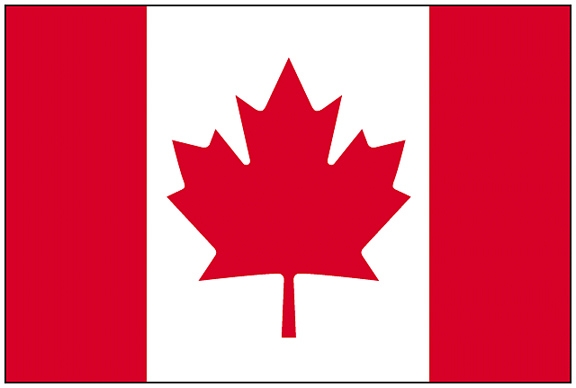 Are there downsides to producing in Canada?  Well, at the risk of getting deported, I will say that I believe the writing in the United States is stronger than the writing in Canada, particularly when it comes to preschool comedy writing.  As one of the larger Canadian indies told me recently, "Josh, preschool television isn't supposed to be funny, it's supposed to be charming."  Well, that pretty much summed up the problem for me.  I happen to believe that Princes should be charming and preschool TV should be funny.  (Which is not to say that Princes can't be funny.)
But, in every other respect, Canada is a great place to produce animation.  As my colleague Tone Thyne likes to say, "Animation is to Canada what the ballet is to Russia."  I don't know if that's true but it does sound good.  Canada also happens to be full of very likable, sincere people.  There's an old joke about the difference between New York and L.A. that goes: "In New York, when someone says,'F*ck you' they're actually thinking, 'Have a nice day!'  And in L.A. when someone says, 'Have a nice day!' they're actually thinking, 'F*ck you.'"  But in Canada, I've observed, when someone says, "Have a nice day!" they're actually just thinking, "Have a nice day!"  For an American like myself who was raised on subterfuge, this is a refreshing change of pace.
I typically like to start my days in Toronto by getting up early and running along the waterfront where the Canadian Geese fly over lake Ontario in their long thin lines.  This morning I found myself wondering if Canada Geese are called "Canada Geese" in Canada or if they are simply called "Geese?"  Hmmm.  And then I wondered if Geese who reside in Canada automatically qualify as Canada Geese or if they have to be born in Canada to be considered Canadian?  Then I went to Tim Horton's and had a doughnut.
I went to dinner last night with an old friend in Toronto and she encouraged me to try the New Brunswick Fiddle Head Ferns sauteed with capers.  I had never heard of this dish before and I was told that it's a local delicacy and that Fiddle Head Ferns are only available for a few weeks every year.  So I took the plunge and I must say that it was a super cute and extremely tasty side dish.  I took this picture of my ferns during the dinner just to show you.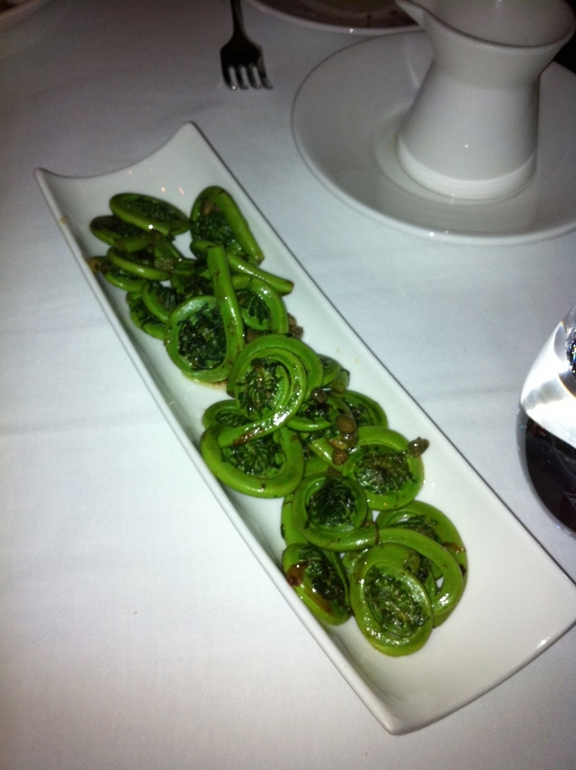 I am now on board a much bigger Air Canada jumbo jet heading from Toronto to Vancouver for some more meetings and some more meals.  I love Vancouver and I consider it one of the most beautiful cities in the world.  It's also a very sporty city and you can see people commuting to work in kayaks.  Even the homeless here ride around on mountain bikes and are allowed to sleep undisturbed on the beach.
When I come to Vancouver, I always stay with my dear friend, Cathy Chilco, who takes me on walks in places with timeless names like Bowen Island and Deep Cove.  Yesterday we went to Stanley Park right in the heart of the city and we looked up at the impressive Great Blue Heron nests.  Then we took a stroll along the shore and came upon the "Kids' Dryer," a large machine that actually blow-dries your kids after they swim.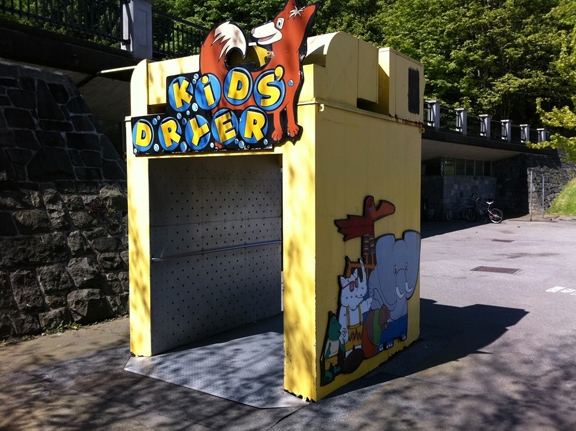 On the way home from Stanley Park, Cathy told me that the historic Burrard Bridge is in the process of having its walls heightened because so many of the locals have been taking their own lives by jumping off it.  Now, why anyone who lives in a city where Great Blue Herons nest two blocks away from a Starbucks, where they blow dry your kids after a swim, and where the government picks up 30% of your animation tab would want to end it all is beyond me.  If Vancouverites want a good reason to jump off a bridge, they should try financing an animated series in New York City.
I am now on another plane, this time heading back home from Vancouver to New York.  It was a full week of schmoozing, meetings, and Emmy nominations (go, team!) so I gave myself the weekend off to celebrate my 48th birthday with my cousin and his family who live in the lovely town of Maple Ridge, Canada.  We talked about Mason Bees, the local lapidary club, Geocaching and we even watched some hockey.   But there was one moment in Maple Ridge when it became very clear to me that Canada will continue to dominate the U.S. when it comes to all things digital.  My 13-year-old niece, who has no interest in (or training in) animation, figured out how make me an animated "Small Potatoes" Twitter icon in about fifteen minutes.  (I have tried to make one of these for about a year.)  I asked her how she became so digitally savvy and she shrugged and said, "I took a Photoshop elective at school and, in my social studies class, we're required to create a Facebook Page for a historical figure and post on it daily as if we're them.  And whenever I don't know something, I just Google it."
Canada 1.  United States 0.