Animasia series headed to Toon Goggles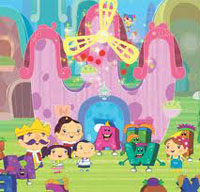 Free online kids animation channel Toon Goggles has inked a deal with Kuala Lumpur, Malaysia-based Animasia Studios to bring a number of its kids series to the web portal.
Included are preschool toon ABC Monsters, football-themed Bola Kampung, Kung-Fu fighting Chuck Chicken, and the magic-based Harry & Bunny Show, which are now available in the US and Canada.
Magazine
Check out our latest issue of iKids Digital! We've got the scoop on the latest social media marketing tactics, the tablets that kids and parents can't put down, and new insights on how youth are using social networking sites.
Kidscreen on Instagram