Almost Naked Animals gets into gaming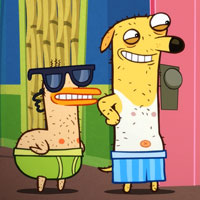 Toronto, Canada-based digital media developer Game Pill is set to create an online video game based on 9 Story Entertainment's animated series Almost Naked Animals that is expected to launch this fall with mobile apps planned for 2013.
Users of the interactive game can run their own tropical hotel, play as any of the characters from the series, and compete to run the best hotel.
Almost Naked Animals, which is currently in its third season, features the comedic misadventures of group of underwear-clad animals who run a beach-front hotel.
Broadcasters airing the series include Cartoon Network US, YTV Canada, CiTV UK, ABC Australia, Disney Channel Italy, Disney Channel India, Disney Channel Latin America, Disney Channel Spain and Portugal, NPO's children's channel Z@pp/Zeppelin in the Netherlands, Super RTL Germany, Canal+ Family and TéléTOON+.
The deal further expands the digital presence of the brand, which recently branched into online retail after 9 Story inked a deal with CafePress.com, naming it the official e-commerce partner for the series.
Magazine
Check out our latest issue of iKids Digital! We've got the scoop on the latest social media marketing tactics, the tablets that kids and parents can't put down, and new insights on how youth are using social networking sites.
Kidscreen on Instagram