Sometimes you just need a break. Whether it's on the subway, waiting for a conference call to begin or the takeout you ordered for dinner to arrive, we all have those times when having a game to play at the tip of your fingers (or the touch of your iPhone) can come in handy. Luckily for us, we're game designers, so playing these games isn't a waste of time, it's an excuse for a blog post!
Rather than share deep principles of design and writing this week, we thought we'd just tell you what we're playing these days, and why. If nothing else, maybe you'll discover some new ways to waste a minute (or an hour…) or discover how games might help you bond with your friends and family.
Solitaire City Deluxe (Carla)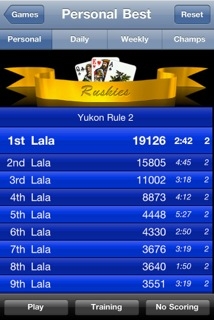 It's a well-known secret that I play games on an iPod touch until I fall asleep at night. Forget counting sheep. I've played through tons of Sudoku and KenKen puzzles on the way to dreamland. And Solitaire City Deluxe is my latest. But it's also fueling my competitive spirit. Each of the solitaire variations in the app have a leaderboard for that particular installation of the app that was pre-populated with random names. I won't rest (haha) until my name occupies every single slot, even though I'm competing against fictional people with made up scores…
Spell Tower (Anne)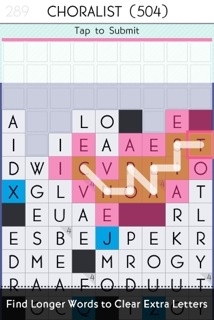 I downloaded this game after reading about it in The New York Times a couple of weeks ago, and have been playing at least a few times a day ever since. It's basically a word search, where you make words by touching on sequential letters in an enormous stack of tiles. Once you make a word, all of those letters disappear, the stack shifts accordingly, and you move on and keep making words from the letters you have left. (There are several modes of play, including a multiplayer option, but I keep coming back to this most basic one, called Tower Mode.) It's simple, smart, and addictive, and best of all, no internet connection required so I can play on the subway! This game has also been a great news story over the past few weeks as its creator, an indie game developer named Zach Gage, put it on sale and it rocketed past the big boys into the top ten on the App Store.
Zen Bound 2 (Carla)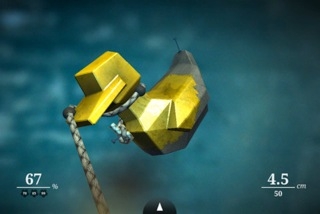 I discovered this in a random perusal of the app store and I'm so glad! It's a puzzle game, which are always my favorites, but much more tactile. You spin a wooden sculpture to wrap it in rope, all while listening to a totally zen sound track. Meditative gaming bliss!
Toca Tea Party (Anne)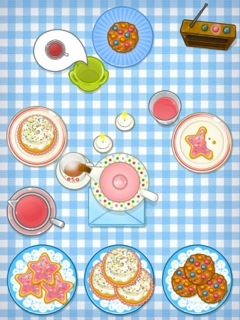 My three-and-a-half year old son is the one who's really playing this, but I'm playing along with him and enjoying it perhaps more than I should. Essentially, this game allows you to set a table for a tea party on your iPad, serve up tea, coffee, cakes and cookies, and throw yourself – and your family members, stuffed animals, etc. – a tea party, complete with music coming out of an old school radio and tissues to wipe up any beverages you might spill. It's makes fantastic use of the iPad as a tabletop play space. Plus you wash the dishes at the end, which I hope is training my son for the future!
Forbidden Island (Carla)
Notice something different about this one? It's a board game! My husband found this game for us a few months ago. Rather than play head-to-head against each other, we're working together to collect items. (He knows I've been obsessed with cooperative games of lately. And board games are another great place to look for inspiration.) The tension in the game comes from a deck of cards that slowly (or not so slowly sometimes!) takes away the various pieces of the board. We have to strategize and decide what areas of the board to repair as well as how to best use our resources to collect everything. If we're too slow, everyone loses!
Draw Something (Anne and Carla)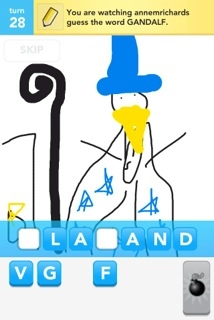 Finally, there's Draw Something, a game we actually play with each other (the picture is proof of that). There have been a few truly goofy misadventures along the way (the picture is again proof of that). If anyone has successfully drawn dubstep, please let us know! We both like that you can see the other person's process of drawing as well as guessing. And hooray to adding the chat feature that we were desperate for! Now we can stop mocking each other over text message.
If you've got a recommendation for something we should be playing now, email us at kidsGotGame@noCrusts.comand we'll put it on the list! Otherwise, we'll be at INPlay in Toronto in a few weeks, if you want to catch us north of the border.