PopCap Games enters the merchandising market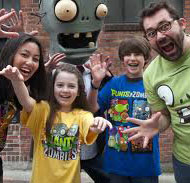 Seattle, Washington-based casual video games developer PopCap Games of Bejeweled fame is expanding its hit digital properties into the merchandising world for the first time with a raft of new licensing deals.
Licensees on-board to bring products based on PopCap's hit franchise Plants vs. Zombies to market in the North American and European territories this spring include:
● Bioworld Merchandising (apparel, headwear, bags, accessories);
● Jazwares (plush toys, figures, electronic accessories, headphones, USBs, speakers, device cases);
● Walls360 (wall graphics including individual characters and exclusive bundles);
● Funko (Plants vs. Zombies Pop! vinyl figurines);
● MjC International (adult sleepwear, boxers);
● Trends International (calendars, posters)
Products based on PopCap's other successful brand's (Zuma, Peggle, Bookworm), including Bejeweled, are expected to hit retail stores in early 2013.
PopCap, which launched in 2000, was acquired by Electronic Arts in 2011 and its casual, mobile and social games have been downloaded more than 1.5 billion times worldwide, with Bejeweled selling more than 50 million units.
Magazine
Our fall edition of iKids Digital is now available! We're taking a look at the migration of virtual worlds to mobile, how to find success in the mobile education space, wearable tech for kids and much more.
Kidscreen on Instagram