JOSH:  Thanks for making time for me today.
JOSH:  Of course.
JOSH:  So, how long have you been writing this blog for Kidscreen?
JOSH:  I have been writing the blog since October 6, 2008 but I ran out of things to write about on June 25, 2010.
JOSH:  So why do you continue?
JOSH:  Well, when I was a kid I used to quit things quite often.  For example, when I was seven years old, I was very into rug hooking.  I asked my mother to buy me this very large pattern and lots of yarn.  I only hooked about two feet of it and then I quit.  A few years later I quit coin collecting, then magic tricks, then Little League Baseball.  My mother became concerned and she told me I was in "real danger" of becoming a "quitter."  That conversation stayed with me so now I don't quit anything, not even the things that I should quit, like watching Dog The Bounty Hunter.
JOSH:  What have been some the highlights for you of writing the blog?
JOSH:  Outlasting Jeff Gomez.  He's a really good writer so when he got a Kidscreen blog and started adding all of his hyperlinks and YouTube videos I got a little freaked out.  I felt that my own blog, by comparison, was very Beatrix Potter.  But then Jeff quit after a few months – (as many Kidscreen bloggers do) – and I was relieved.  I almost sent Jeff a note warning him that he was in real danger of becoming a quitter but then I realized that it wouldn't make sense to anyone but me.  For the record, I consider Jeff a friend and a visionary and I'm always amazed that he can add dissolves and camera moves to his Power Point presentations.
JOSH:  Does it bother you that your blog regularly makes the "Most Popular" list on Kidscreen.com and yet you only average about 2.5 comments per blog?
JOSH:  It used to bother me but then I realized how much I hated leaving comments on other people's blogs.  There's just such pressure to be clever or quippy when you leave a comment.  It's like a form of stage fright.  With all that said, I would be lying if I told you I didn't check my blog a few times a day to see if I got any new comments.  Comments are to bloggers what doubloons are to pirates.
JOSH:  You seem to be very into words.  What are your two favorite words?
JOSH:  Mary & Buffy.
JOSH:  And what are your two least favorite words?
JOSH:  Toyetic & Edutainment.
JOSH:  Which brings me to the Small Potatoes.  Is it true that one broadcaster initially passed on the Small Potatoes because they said Nate looked too much like a penis?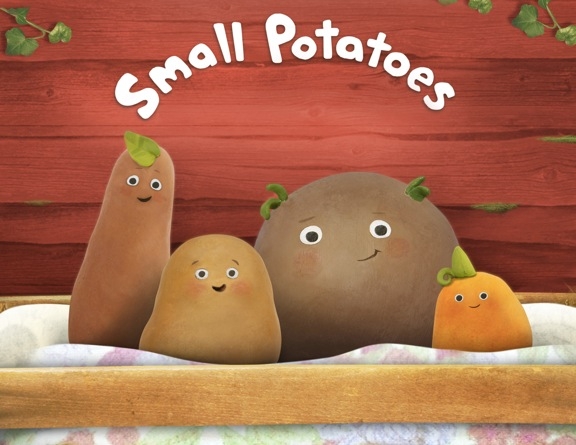 JOSH:  No comment.
JOSH:  Fair enough.  In just a few short months, the "Small Potatoes" have amassed 750,000 international fans on Facebook, mostly teenagers.  How?
JOSH:  783,163.  But who's counting.  The teen thing really caught us all by surprise.  What we've discovered is that teens just find the Small Potatoes to be irresistibly cute.  Their postings are very similar to the ones you'll see on the popular "Hello Kitty" Facebook page.  We think we may have inadvertently cracked the elusive 2 – 20 demographic.
JOSH:  Kudos.  But does your constant and – dare I say it – shameless self-promotion of the Small Potatoes bother you even a little bit?
JOSH:  Not so much.  www.facebook.com/thesmallpotatoes
JOSH:  I know you dislike this question but I have to ask it anyway:  Where do you get your ideas for your shows?
JOSH:  I plagiarize my unconscious.
JOSH:  Last question:  What do you do when you can't think of anything whatsoever to write about for your blog?
JOSH:  I typically fall back on a fake interview structure. It's fast and easy.  And when I'm really hard up I'll even resort to interviewing myself.  It's very sad.  I know.