Spring is busting out all over New York.  Tulips are rampant.  Buds are ubiquitous.  The sun seems to go down more slowly in April and the colors linger longer as if they want to make sure everyone has a chance to see them.  I live near the Hudson River and I run with my dog Buffy after work every day.  Lately the blues of the water combine with the blues of the sky and I find I have no choice but to just stop and face the river with Buffy and look out and wonder.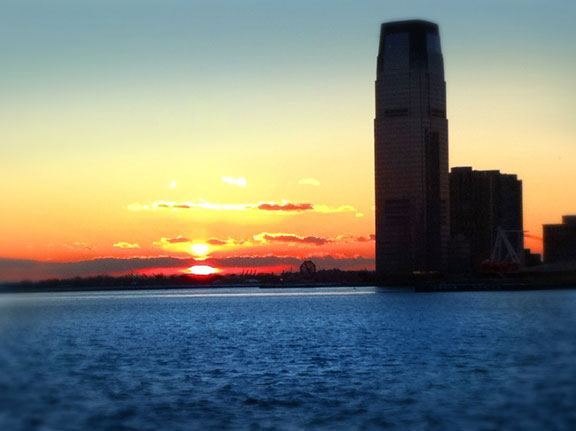 But on the work front, Spring seems to be hitting everyone I know like a freight train.  Big companies and small ones are in upheaval.  The way people make things and the way people share things seems to be changing daily and, with only a few exceptions, becoming less and less profitable.  With these changes comes great insecurity for most folks and the need to look long and hard at their businesses.
Since I have no intention of not making my preschool shows anytime soon, I've settled on an approach that I find helps me during these changing times.  On the practical side, I obviously try to stay current with whatever the latest tools and trends might be.  And keeping up is not so hard, really.  Just read whatever David Kleeman posts on Facebook and you'll be fine.  I think the harder part is not losing your internal compass as you jump between the drifting lily pads of the media industry.  The harder part is being true to yourself.
I realized a long time ago that those who were always chasing the "new" were always getting left behind.  And those who made decisions based on something more personal – their own history, their own original IP, their own way of moving a character across a screen – were usually ahead.  Of course new technology is always helpful when used wisely, but I believe that work only resonates with an audience when it's rooted deep within an individual.  As my poetry teacher Thomas Lux taught me 25 years ago, "The more specific you are, the more universal you will be."
The endless banquet of media that's now available has made the need to be true to your own voice all the more essential.  For your business and your sanity.  If your work is not grounded in something absolutely your own, then you risk becoming as frenetic and desperate as a search engine.  You can't type "indie" into Google to find out what to do next with your life or your company.  For that, you need to go even deeper than Google.  And whatever you discover on that long dive inside yourself, no matter how strange or unexpected, I suggest you go and do that thing.