Like many of you, this past weekend I celebrated a holiday with a family meal – three generations around the table sharing food, opinions, and tips on technology. While I can't claim that my relatively small sample is universal,  nothing illustrates the generation gap better than techno-talk.
It began with my father-in-law whipping out his new iPhone, which he got for "practically nothing." "No wonder," said my son, the geek computer engineering student. "It's not a 4S." Thus began a discussion on the merits of the 4S versus the older models. Once Siri weighed in, the discussion turned serious.
My mother-in-law queried, "Why do you need someone to talk to you? Isn't that what you're supposed to do on a phone? " Gotta give her a point for that. She's an extreme example of the older generation (sidebar: what do you call "boomers' parents?"). She has a cell phone. But it's not smart. She doesn't use a computer, or care to learn how. "What you don't know can't hurt you." A true un-FOMO. Can you even imagine our kids thinking like that?  Can you imagine YOU thinking like that?
Observation #1: The older generation (i.e., grandparents) may (or not) like the shock and awe of technology, but don't necessarily crave the next big thing; the younger generation (Gen Y and Zs, in this case), move as fast as the trends. If it's not the newest, latest, greatest, why bother?
From phones, we slid right into how technology makes our life easier. My mother can't drive without a GPS. My in-laws use the DVR so they don't miss favorite shows. I read on the iPad because I can make the type any size I want and don't have to turn on a light to read in bed. My husband checks traffic on Google (while he's driving, of course). And thanks to the Citibank app, he hasn't seen a human teller in months. The kids, on the other hand, laughed about swiping their phones at Starbucks to pay for lattes.  How to get free books on their devices. Watching their favorite shows online, anytime, anywhere, Using WhatsApp to connect the dots between any smartphone. And creating their own playlists on 8tracks.
Observation #2: The older you are, the more likely you are to see technology as a tool to make life easier. The younger you are, the more likely you are to see technology as a toy to make life more fun.
Their fingers were twitching, but the kids waited for dessert to actually whip out their phones to trade games and gimmicks. My father-in-law, the iPhone newbie, hadn't even tried playing mobile games. And probably never would. My mother (who has a dumb phone), doesn't understand why anyone would use their phone for games, but admits to a few rounds of solitaire on her computer.  She said she'd like to try playing bridge online too, but hasn't figured out how to do it. My husband's Angry Birds addiction is his excuse for relaxation and procrastination. I love Flood-It! for the same reasons, but as a word person, Words with Friends is my real go-to. Aside from Twitter (younger ones),  Facebook (all), Skype and Pinterest (mixed), the kids had a plethora of faves – from IMDb to DrawSomething to the new Angry Birds, Cut the Rope, Move the Box, Where's My Water and games I never heard of and am sure will never play. There was very little cross-pollination of app preference between the older and younger generations.
Observation #3:  The older generation is more likely to try games they already know how to play. The younger generation will try anything on a recommendation or whim.
When the discussion and party moved into the living room,  the kids pulled out a pile of video tapes to watch old family movies. We all howled over each other's clothes, hair, and mannerisms.  My son periodically pressed pause to snap a picture on his iPhone, which will eventually migrate to Facebook. And hopefully not go viral. "Mom, we should digitize these!" said my daughter.  "Aren't they already on video?" asked my mother. 'Nuff said.
Observation #4: Older generations see technology as a something outside of their life; Kids see technology as part of their life, an ongoing adventure that naturally grows and changes.
Where do you fit in this spectrum? Email me at wendy@sandboxsummit.org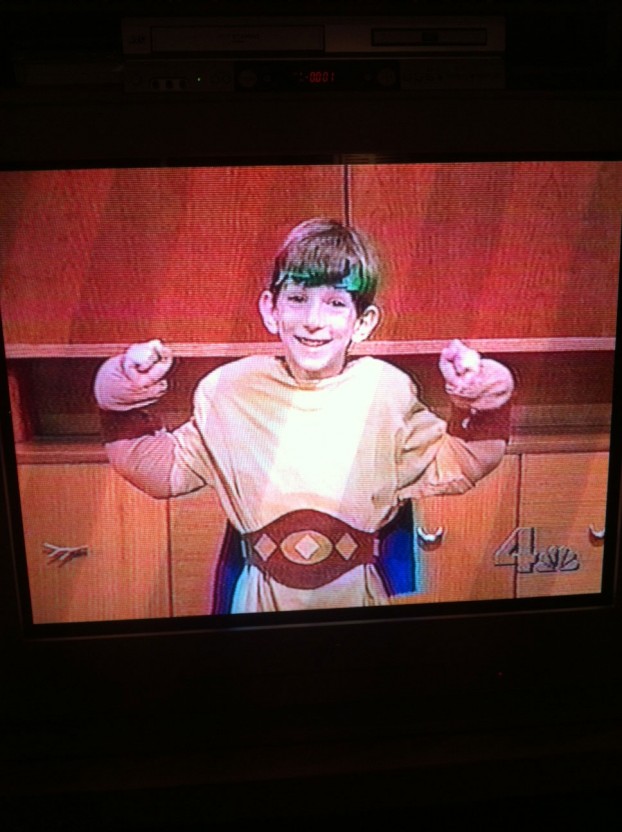 Kids use technology as a normal way to connect and converse. This old video image was captured on an iPhone and then posted on Facebook.