Disney's Motorcity app gets into gear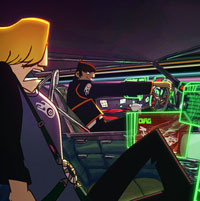 In advance of the April 30 Disney XD premiere of car-themed animated series Motorcity, Disney ABC Television Group's digital media team has launched Motorcity: Drive, a 3D racing game for iOS devices available now at the Apple App Store.
The new app is based on the upcoming Robin Red Breast and Disney Television Animation-produced series, which is set in a futuristic Detroit that has banned automobile travel. The story focuses on 17-year-old Mike Chilton who leads his rebel friends, The Burners, and their hot rods in efforts to protect their underground refuge, Motorcity, against the evil billionaire Kane.
Motorcity: Drive features six levels, shooter-style gameplay, and the story follows Mike and fellow Burner Chuck who must outdrive and outrun Kane's evil robots.
Magazine
Check out our latest issue of iKids Digital! We've got the scoop on the latest social media marketing tactics, the tablets that kids and parents can't put down, and new insights on how youth are using social networking sites.
Kidscreen on Instagram