Everything, in the end, is an experiment.  We try lots of experiments here at Little Airplane, from making custom Small Potatoes on warships to opening up our studio twice a year to give away all our secrets at the Little Airplane Academy.  But perhaps our most unusual experiment so far has been The Olive Branch, our series of one-minute non-verbal shorts that currently air on over 100 channels around the world including Nick Jr. here in the US.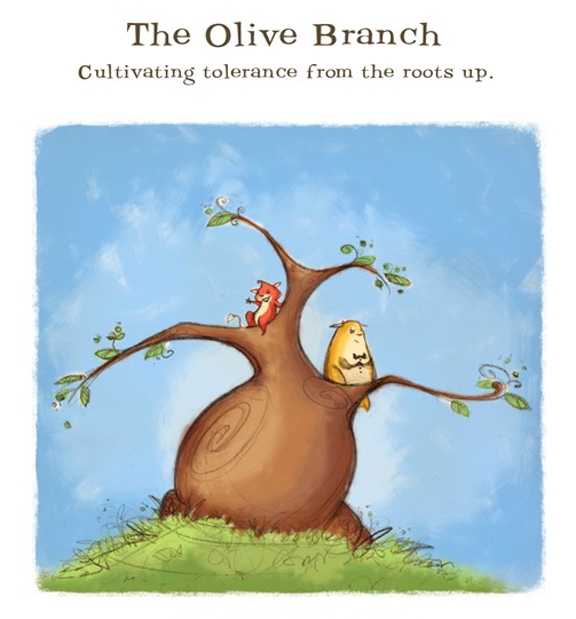 I first came up with the show after working on a preschool series in Jerusalem that was designed to foster mutual respect between Israelis and Palestinians.  On that show, our puppets always had to communicate through a human cast member who spoke both Arabic and Hebrew and who would translate all the dialogue for the young characters.  As you can imagine, this language barrier was a challenge for the series and, after that project wrapped, I began to wonder whether it might be possible to create a show that conveyed messages of tolerance and mutual respect but did so without words so it could be understood by everyone.
The result was The Olive Branch, Little Airplane's hand-drawn animated series about two characters, Red and Yellow, who have to learn to live together in the branches of a beautiful Olive Tree.  Each episode explores one conflict – such as Red wanting to play his "strummy" at the same time that Yellow wants to go to sleep – and explores how the two characters resolve their conflict amicably.  (In this case, Red ended up playing a lullaby for his friend Yellow.)  These stories are told entirely through animation and underscoring and there are no words, not even narration.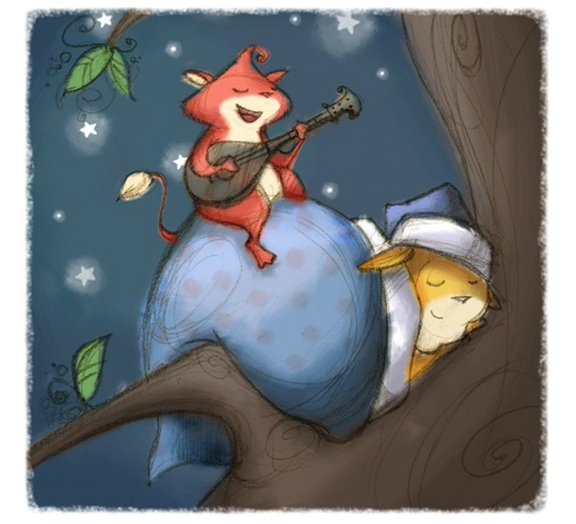 We gathered endorsements for The Olive Branch from folks like The Archbishop Desmond Tutu, the Simon Wiesenthal Center and Deepak Chopra.  We introduced the series at Prix Jeunesse in Munich in 2010 and then brought it to all the international TV markets.  We knew we wanted to separate this project from our usual commercial activities so we established the non-profit "Little Light Foundation."  Finally, we decided to try an entirely new and unusual business model for the entire series.  Our pitch to the broadcasters was this:  We'll charge you just one unit of your own local currency per episode for a one-year license and the only condition of the license is that it's non-exclusive.  ("Yes, you have to learn to share, just like our characters do in their Olive Tree.")  We invited the wealthier broadcasters to make contributions to the Little Light Foundation to help us cover our costs and most of them were happy to do so.  To date, we've received tax-deductible contributions for the series that have ranged anywhere from 1 Euro to US$25,000, and we continue to sign up new broadcasters all over the world almost every month.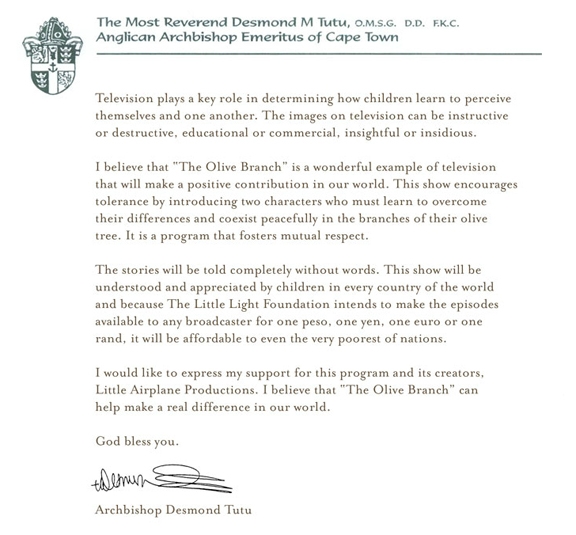 In order to save on legal fees for our Olive Branch model, we created a simple one-page deal memo that fits snugly in the back of our pitch bible.  We figured it just didn't make sense to pay hundreds (if not thousands) of dollars to draft all the contracts when someone was potentially going to pay us just a few cents for the show.  We've actually had several broadcasters sign our little deal memo on the spot and a few have even paid for their episodes in cash.
This year The Olive Branch got a wonderful and unexpected boost.  We were noticed by the good folks at Sterling, a book publisher affiliated with booksellers Barnes & Noble.  They had seen our show and felt that the characters of Red and Yellow would be perfect for a children's book and a set of plush characters.  This sounded great to us, so I wrote the manuscript and our Little Airplane designers, led by our Art Director, Cassandra Gibbons, created the lovely artwork.  Needless to say, we are very pleased with the results and the book and plush are now available at Barnes & Noble and are coming soon to a bookstore near you.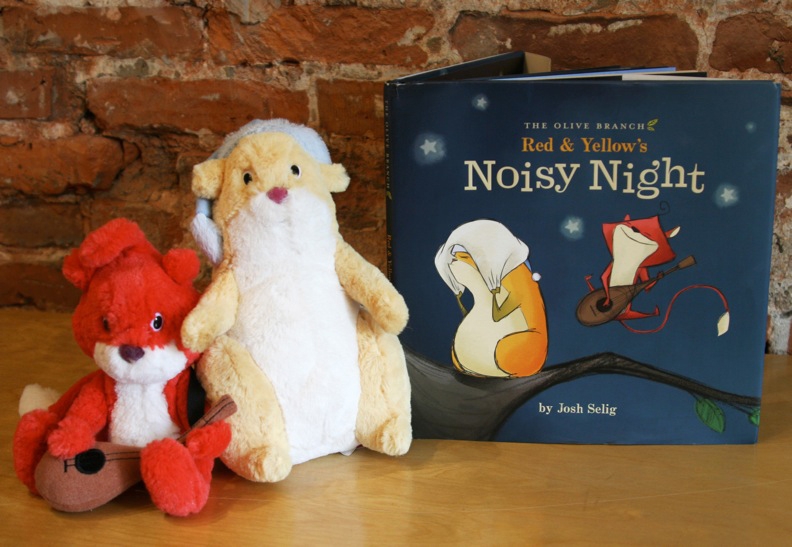 I cannot say that all of our experiments have turned out quite as well as this one, but I will say that all our experiments have been fun and have taught us something new about ourselves, the brave new world of children's media that we live in, and the young children whom we serve.
If you would like to learn more about the Little Light Foundation or how you or your company can get involved with "The Olive Branch" initiative, please contact Tone Thyne at tone@littleairplane.com or visit www.littlelightfoundation.org.  You can also find out about readings in your area by visiting our Facebook page: www.facebook.com/redandyellowsnoisynight