Qubo launches slate for upcoming season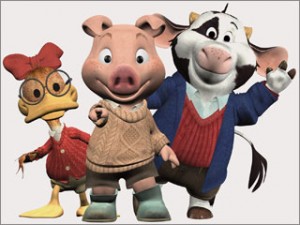 Five-year-old US kids channel Qubo is adding 16 animated and live action series to its new 2012 lineup that will begin airing this quarter. Totaling more than 400 half hour eps that are new to Qubo, the programming has already kicked off with the premieres of Timeblazers and Dex Hamilton: Alien Entomologist.
Next up the channel will bow Artzooka, Jakers, Sandra, the Fairytale Detective and Timothy Goes to School. This spring Qubo is also introducing Guess with Jess, Harry and his Bucket Full of Dinosaurs and Where on Earth is Carmen Sandiego?, followed in the summer by the launches of Animal Atlas and Taste Buds. Rounding out the year's additions this fall are the debuts of Eliot Kid, Liberty's Kids, Archie's Weird Mysteries, Sherlock Holmes in the 22nd Century and Culture Click.
Qubo is available 24/7 as a digital channel and at www.qubo.com. It also appears as a branded block Wednesday to Friday mornings in the US on ION Television, Saturday mornings on NBC and weekend mornings on Telemundo.
Tags: Qubo
For more information in the Contact directory:
Qubo