I first met Emmanuèle Petry-Sirvin in Brazil five years ago.  We were both guests of the lovely Brazilian Independent Producers Association (ABPI) and, after work each day, we would all go out and drink Caipirinhas on the rooftops of São Paulo.  Emma and I have been friends ever since.  It was on that trip that I first saw some of Emma's extraordinary photography.  Emma sees a world that the rest of us somehow miss.  She captures that world and she shares it which, in my view, makes her an artist.  I asked Emma if she would share some of the pictures she took during her Kidscreen Summit week in New York and she happily obliged.  Below are some of her beautiful words and images.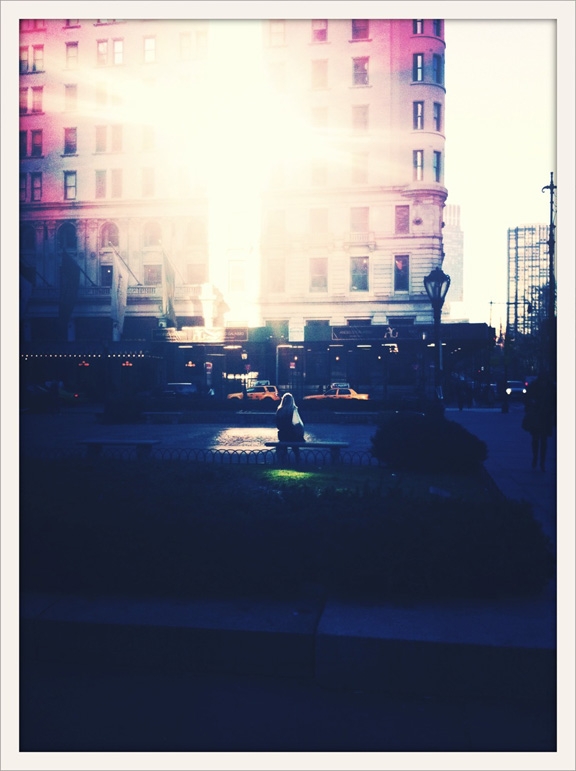 At Kidscreen I feel like I belong to a big nice family… a warm place where my sister comes from Canada, my brother lives in New York, my uncle flies in from Korea, my cousin from Brazil… a dysfunctional and turbulent family like all large families… I talk to my French neighbor as if we were at home, no wonder… we meet casually to talk about our children about five times a year.
Last week, like each February, we meet in the Delegates Lounge like a 4-day Thanksgiving party where it's tough to find a place in the sofa.  Like in all reunions I do need to get out for some fresh air… and wow… here's New York! …and many people… many lonely people… alone in the crowd. In French we only have one word for alone and lonely: SEUL. Could be good or bad to be "seul"… in this case who knows really.
I am touched by these foreigners who have no idea of what's going on on the 3rd floor of the Hilton… so here are a few thoughts/shots dedicated to these unknown figures.
– Emmanuèle Petry-Sirvin