WNET taps Ruckus for Cyberchase app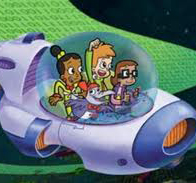 US public media provider Thirteen/WNET New York has entered a digital partnership with mobile entertainment company Ruckus Media (My Little Pony: Twilight Sparkle, Teacher for a Day) which has been awarded worldwide rights to create interactive storybook apps based on the PBS KIDS GO! animated math series Cyberchase.
Tapping into the trend of science, technology, engineering and math-based learning (STEM), the suite of interactive storybooks will be the first from Ruckus to promote STEM learning.
The series, which targets kids ages four to eight, features a group of kids who use math and problem solving to outwit villains in their journey to save Cyberspace.
The storybook apps will feature math and problem-solving interactive stories with interactive components for parents, and will be available for a range of mobile devices and tablets. Ruckus will release 12 titles each year in two reading and math levels with the first titles set to launch worldwide with English-language distribution in April 2012.
Cyberspace currently airs on more than 300 public television channels nationwide. The digital partnership follows closely after a new Ruckus Media deal to develop iOS storybook apps based on long-running preschool property The Wiggles.
Magazine
Check out our latest issue of iKids Digital! We've got the scoop on the latest social media marketing tactics, the tablets that kids and parents can't put down, and new insights on how youth are using social networking sites.
Kidscreen on Instagram