Winning Moves for DC Comics card game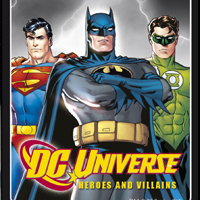 Game developer Winning Moves has locked down a two-year deal with Warner Bros. Consumer Products UK to launch DC Universe Heroes and Villains Top Trumps, a card game featuring Batman, Superman and other popular DC Comics characters.
The card game will be available at retail this summer across EMEA, Asia Pacific and the US. Facts and statistics about every character will be featured on the cards.
Tags: Batman, DC Comics, DC Universe Heroes and Villains Top Trumps, Superman, Warner Bros. Consumer Products UK, Winning Moves