I used to groan when I got long xeroxed letters from faraway (or not) friends about what amazing things their families had done during the past year. Inevitably, two or three Polaroids fell out of the red-lined envelopes documenting the achievements. I dutifully arranged them on my side table with all the glittery and glitzy cards I received.
A few years and computer models later, the xeroxed letters gave way to laser printed copies. The Polaroids became scans. I still groaned and rolled my eyes. But I still placed them on the side table that was no longer quite as crowded.
Flash forward to 2011. The post office is in crisis. Despite the fact that there are dozens of memorable stamps (as well as DIY models), mailing cards just doesn't seem to be happening. My side table has about 10 cards (okay, seven, including one from my insurance guy), and the pretty frames that used to hold yearly glossies of happy kids are now just ghosts of Christmas past. Only one of my friends still sends greetings thick enough to require extra postage. The most creative cards I see are pictures in the MoMA catalog. YouTube videos, dancing elves, e-cards, or links to a blog (oy!) have become the new normal.
I never thought I'd say this, but I miss the minutiae of my friends' lives. Not the moment-to-moment Facebook flashes or twerpy tweets we exchange all year. But the annual window into what they think about when they really take stock. What ever happened to Harriet's new car? Did Suzi get the lead in this year's play? Is Josh still dating Emma? And did you finish the addition to the house? All those letters that made me roll my eyes also made me hear my friends' voices, see their families, and revel in our relationships.
So please send me your silly stories, your sweet smiles, and your latest news. Put it all in a letter with a Noel stamp. Be traditional. Isn't that what the holidays are all about?
Wishing you the best, wendy@sandboxsummit.org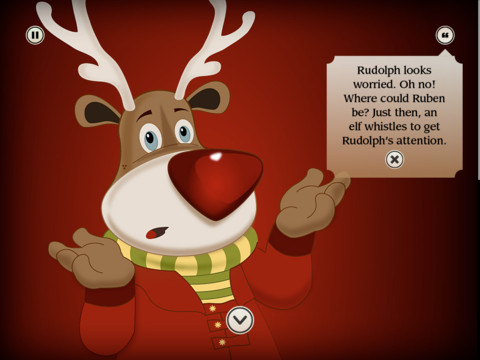 Even Santa's got an app. This interactive story combines traditional holiday charm with clever graphics and direct-to-Santa letters.