Rob the Robot finds home online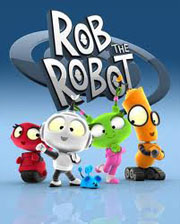 Ottawa, Canada-based Amberwood Entertainment has announced that pubcaster tvokids.com will launch a suite of Rob the Robot-themed interactive games based on the CGI-animated preschool series.
Launching on January 9, the website will include puzzles, matching games and coloring pages that are inspired by Rob, his friends and the Robot Galaxy.
The new interactive initiative comes on the heels of a deal by Entertainment One (eOne) to distribute the second season of the series, which Amberwood Entertainment co-produces with One Animation in partnership with the MDA, the CMF, and the Shaw Rocket Fund. eOne Family has global distribution rights for the series.
Magazine
Our fall edition of iKids Digital is now available! We're taking a look at the migration of virtual worlds to mobile, how to find success in the mobile education space, wearable tech for kids and much more.
Kidscreen on Instagram