Club Penguin renews charitable efforts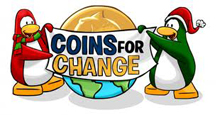 The snow-themed virtual world of Club Penguin will be seeing a different kind of online activity this holiday season with the launch of the site's fifth annual Coins for Change event.
The event, which runs from December 15 to 27, challenges kids on the site to donate the virtual coins that they earn playing online games to real-world social causes aimed at helping children and families in need. If the site's island lighthouse gets filled with coins, Club Penguin will double its overall cash donation to up to US$2 million.
To date, Coins For Change donations have helped in excess of a million people in more than 40 countries by funding schools, libraries, health clinics and clean water programs.  Last year, the initiative drew more than three million kids, who together contributed 12.2 billion virtual coins throughout the campaign.
Magazine
Check out our latest issue of iKids Digital! We've got the scoop on the latest social media marketing tactics, the tablets that kids and parents can't put down, and new insights on how youth are using social networking sites.
Kidscreen on Instagram