Magical media can rarely substitute for a good story. We've gone far beyond the early days of movies, when French filmmaker and "cinemagician" George Méliès thoroughly embraced the transformative effects of cinematography and created innovative entertainment regardless of the plot.
It's only fitting that Hugo, the story of George Méliès and the eponymous 12-year old orphan, was made in 3D, the new "it" form of cinematography. However, call it Martin Scorsese's magic, but the third dimension in Hugo was merely the icing of this tale, not the cake.
Hugo had a real story (Brian Selznick's The Invention of Hugo Cabret) with clear character development, suspense, imagination and subplots. It just happened to be augmented by 3D. After the initial reach-out-and-touch-me snow flurries (which I have to admit, actually made me shoulder my coat), the 3D-ness didn't override the story.  (Think Avatar.) Of course it provided more depth and fun to the picture, but it didn't distract from—nor actually add to— the engaging plot. I laughed. I cried.  And I completely forgot that I was wearing dorky plastic glasses.
This is what we should expect good media to do. Give us a brilliant story. Then further engage us. Immerse us. Entertain us. Regardless of the platform.
While waiting for Hugo to begin, I sat through the usual number of previews, this time, all in 3D. Coming soon to a theatre near you: 3D Star Wars. 3D Titanic. 3D Beauty and the Beast. And 3D Paranormal, the only original flick in the lineup. Star Wars! Titanic! Beauty and the Beast! Yes, these are wonderful stories, but they've already been told beautifully. Do we have to remake perfection to make it better?
Adding a pair of magical glasses doesn't turn a masterful movie into a masterpiece. What made Hugo so good was it started with a story and told it in a way—and on a platform—that enhanced the adventure. When you start your tale with a medium rather than a message, you risk losing the essence of the story. And once you've eaten all the icing, the cake can be pretty crumby.
Would love to hear your thoughts. Email me at wendy@sandboxsummit.org.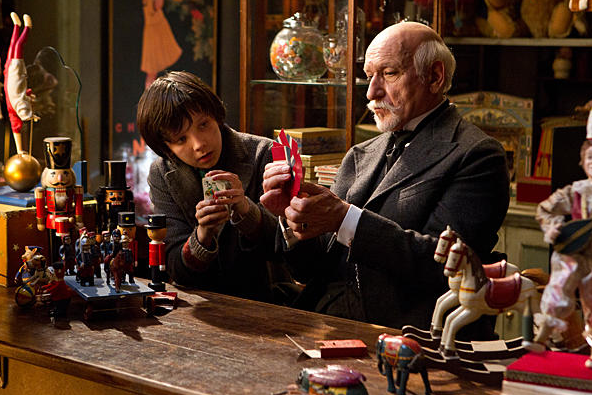 The magic of Hugo was as much in the story as it was in the telling.