Fingerprint debuts its social learning apps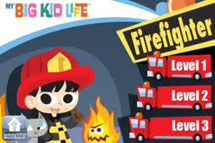 Mobile learning and play network Fingerprint Digital, a startup founded by former developers from Leapfrog, PlayFirst and LucasArts, has launched its first five educational apps for kids ages three to eight.
The Fingerprinted iOS apps, Big Kid Life Fire Fighter, Big Kid Life Vet, Big Kid Life Fairy Princess and Play Maker, offer game play snapshots for parents, a recommendation engine for new games based on play patterns and progress and a virtual reward system that encourages kids to keep learning.
Also included in the apps is Mom-Comm, a special feature that gives parents the option to send encouraging voice messages, notes, or scripted messages.
Magazine
Check out our latest issue of iKids Digital! We've got the scoop on the latest social media marketing tactics, the tablets that kids and parents can't put down, and new insights on how youth are using social networking sites.
Kidscreen on Instagram